Charlotte McKinney's Revealing TCA Dress, Rihanna's Scathing Instagram Post, and Much, Much More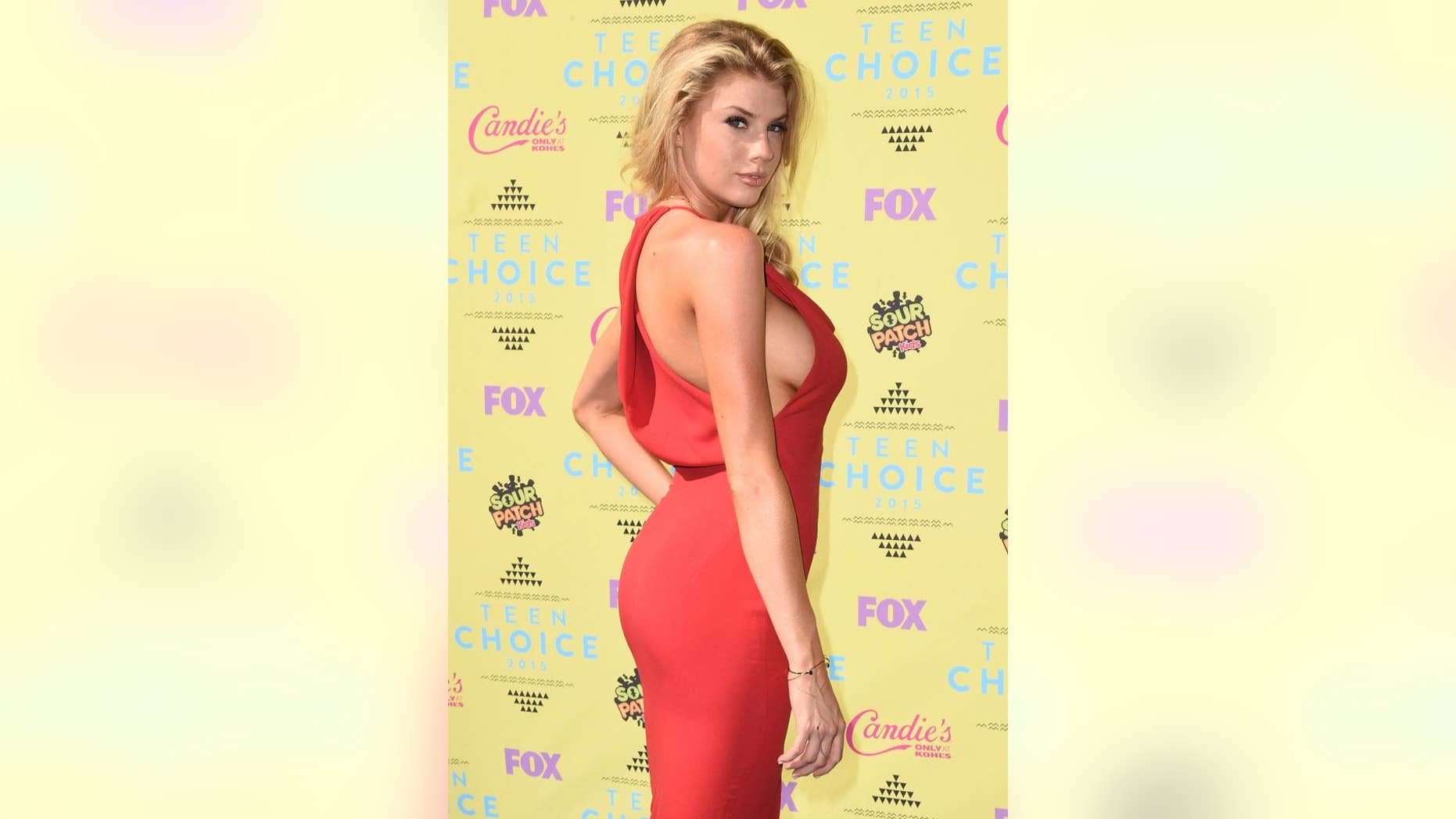 Here's what all the cool kids are talking about:
• Both Charlotte McKinney and Britney Spears wore revealing outfits to Sunday evening's Teen Choice Awards in L.A., with Charlotte opting for a slinky red dress (above) and Spears arriving in . This can only mean that we somehow missed an awards pre-show that honors teens' choices in "Most Creative Cleavage."
• Speaking of Charlotte McKinney, the blonde bombshell recently named her biggest turn-off in an interview at the FNM studios, and she feels so strongly that she'll actually "leave a date" if it crops up. Find out what it is in the video below, because despite what you're thinking, it's not "people who act like drooling idiots around me," though that's a good guess.
• Although he disappeared for the last "Pirates of the Caribbean" installment, Disney officially announced that Orlando Bloom will be returning for the next "Pirates" sequel, subtitled "Dead Men Tell No Tales." Who knows what changed Bloom's mind, but we're guessing it's because out-of-work actors also tell few tales.
• After heavily implying to TMZ that he was dating Rihanna, Memphis Grizzlies player Matt Barnes became the target of her wrath on Instagram, where she made it clear she's never even met him (below). That said, we'd like to take this opportunity to clarify that we never met Rihanna or became BFFs with her over lunch at Olive Garden, despite what we told our friends the other day.
• Late last week, Kensington Palace posted an open letter to the paparazzi asking for an end to the "harassment of Prince George," citing a recent incident in which a man staked out a children's playground to secretly photograph the little royal. And you know what? We side with Kensington Palace on this one. In fact, we'd prefer if all creepy men, paparazzi or not, avoided staking out playgrounds at any time. Just our opinion.
• Pixar's chief creative officer John Lasseter revealed the plot of the next "Toy Story" film, saying it will be more of a "love story" between Woody (voiced by Tom Hanks) and Bo-Peep (traditionally voiced by Annie Potts). But there's probably a good chance Woody will realize Bo-Peep is all wrong for him by the end of the film, and instead fall in love with a She-Ra doll voiced by Meg Ryan.
• Victoria's Secret supermodel Candice Swanepoel recently got engaged to Hermann Nicoli, her boyfriend of nearly 10 years. And just in case there was any doubt, he's equally as gorgeous as she is:
• On Friday, the White House released two of President Obama's summer Spotify playlists: one with more of a daytime vibe, and one more appropriate for evening. Both playlists were said to be "hand-created" by POTUS himself, but we wouldn't be surprised if his closest social media advisers were guiding that hand toward their own inoffensively broad musical tastes.
• And finally, Kylie Jenner has reportedly received multiple six-figure (and one seven-figure) offers to star in pornographic films since turning 18. However, it's doubtful she'll actually take them up on their offers, especially since she's doing a pretty good job of baring her body on her own Instagram account.