Celebrity-inspired holiday gifts
Snow may not be falling in Hollywood (at least not yet), but that doesn't stop celebs from getting in the holiday spirit. If you're a superstar, or just want to shop like one, check out these celeb-inspired holiday gifts. Merry Christmas!
1. Bret Michaels Pets Rock Collection at PetSmart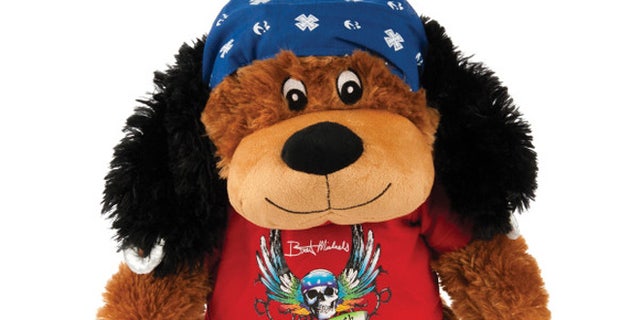 Have a heavy metal dog or cat lover in your life? Bret Michaels has the perfect gift! "Pets have always been an important part of my life–and because pets of all kind rock, they deserve the very best," Michaels told FOX411 of his exclusive line of bad-ass pet accoutrements at PetSmart. "Because the holidays are a great time to give back, my Bret Michaels Chance plush dog toy helps pets in need, because 10 percent of the purchase price is donated to PetSmart Charities to help save the lives of homeless pets." Woof!
Bret Michaels Pets Rock Collection, exclusively at PetSmart, $5-18
2. 'Color Me Swoon: The Beefcake Activity Book for Good Color-Inners as well as Beginners' by Mel Elliot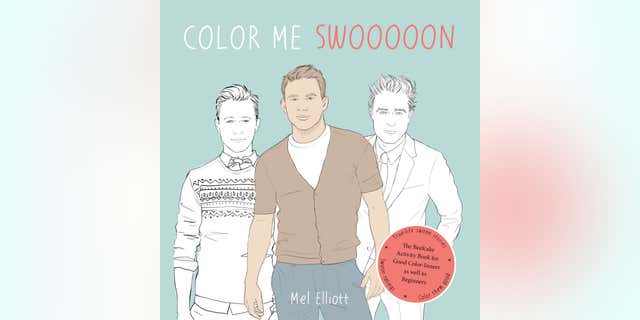 Hey, girl. Want to get close to your favorite hunky celeb? Get some wax on them this Christmas (crayon wax, that is)! "We can merely dream about dating the likes of Ryan Gosling, Channing Tatum or R-Patz, but coloring in their chiseled faces is the next best thing," Mel Elliott told FOX411 of her new book, "Color Me Swoon." "Team 60 heartthrobs with love poetry, silly quizzes and puzzles and you have the best stocking filler ever!"
"Color Me Swoon: The Beefcake Activity Book for Good Color-Inners as well as Beginners" by Mel Elliot, $9
3. Stackable rings by Red C Jewels
Looking for the perfect Christmas gift for the edgy, yet sweet girly-girl in your life? Consider a trio of pave diamond stackable rings by Red C Jewels. Fans of the new line include Selena Gomez, Olivia Munn and Taylor Swift–who recently wore the stackable heart, moon and star ring in yellow gold to the grand opening of her education center at the Country Music Hall of Fame and Museum.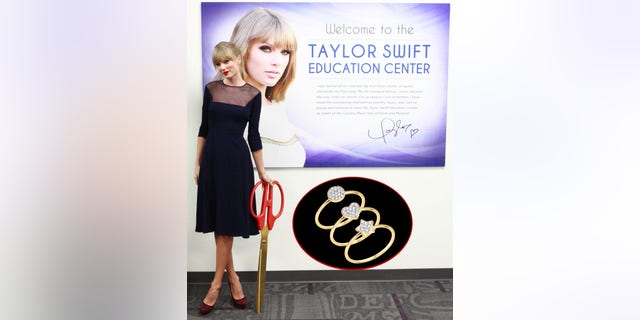 Red C diamond stackable rings in white, yellow, or pink gold, $750
4. Artist of the Month
Celebrities love art, and why not get that special someone a new, creative gift for every month of the year? Lucy Liu is a fan of the Artist of the Month Club, and Sonic Youth rock legend Kim Gordon created January's work of art–a series of painted mini-skirts. "It's 12 gifts in one, mimicking the 12 days of Christmas," Benjamin Tischer, founder of Artist of the Month Club by INVISIBLE-EXPORTS, told FOX411. "The Sam Flood alone is worth the subscription–a partridge is a pear tree, so to speak."
2013 Artist of the Month Club, $2400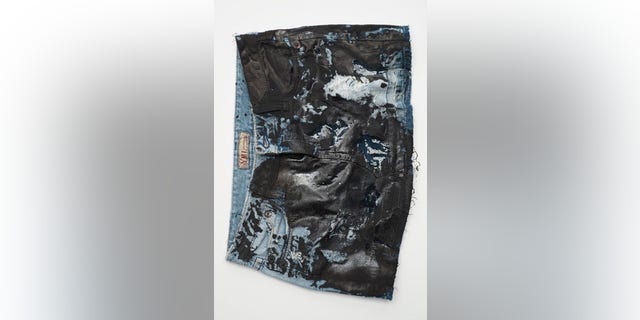 5. Christmas Bling Bucket by Sugar Factory
Britney Spears is back in Las Vegas for her residency at Planet Hollywood, and the superstar is a huge fan of Sugar Factory–creators of the bedazzled refillable lollipop holder. "Sugar Factory's holiday gift baskets are not only over-the-top gorgeous, they are the sweetest gifts for the season," Abel Horner of Sugar Factory told FOX411. "What better way to get into the Christmas spirit and tap into that inner-child in the heart of everyone?" This season, Sugar Factory has created a slew of holiday gift baskets (Denise Richards and Nick Cannon are both fans), including a jam-packed Christmas Bling Bucket.
Sugar Factory's Christmas Bling Bucket, $60

6. Fiesta Dinnerware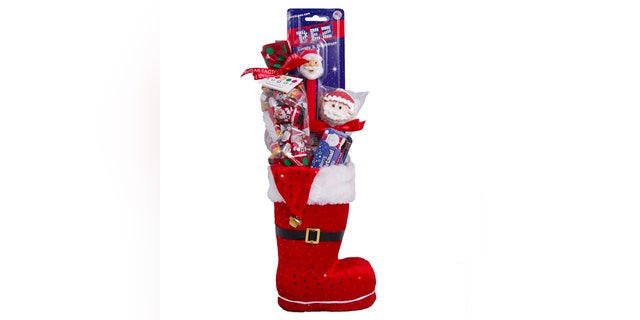 What do Andy Warhol, Halle Berry and Jessica Alba all have in common? They're all fans of Fiesta Dinnerware, the classic All-American art deco-style collection of plates, bowls and saucers in 15 fabulous colors. "Fiesta has been creating memories for millions for more than 75 years," Rich Brinkman of the Homer Laughlin China Company told FOX411. "It's traditions like Fiesta that make even everyday moments lasting memories." Introduced in 1936, Fiesta is highly collectable today–a vintage turquoise covered onion soup bowl can set you back $10,000. Happily, the contemporary line of Fiesta products will brighten the holidays for a fraction of the price.
Fiesta Lapis in the five-piece place setting, $30
7. 'Coffee Crazy' by Robert Galinsky
Manic caffeine and Twitter addicts on your gift list should enjoy the new book, "Coffee Crazy" by Robert Galinsky. The New York-based performance artist and "coffee muse" has curated 140 character (or less) "coffee moments" from celebs like Elvira, Rosie Perez and David Hasselhoff on their craving of the caffeinated bean. "What are the two best things you can do in the morning? Coffee and cigarettes," declared Smiths' bass player Andy Rourke. "And of course, reading Coffee Crazy would create the Holy Trinity."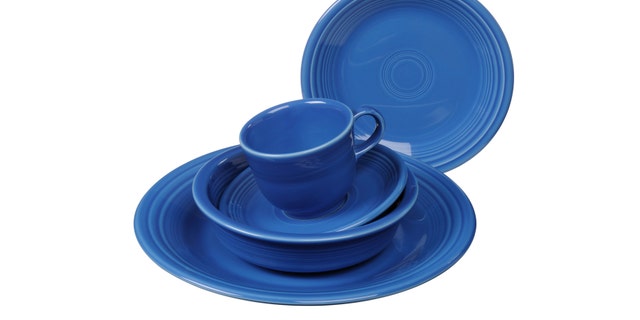 Coffee Crazy by Robert Galinsky, $17

8. The Giving Keys
Not all celebs are cynical, money-grubbing goons. Stars like Harry Styles, Ashley Tisdale and Demi Lovato all love and support the Giving Keys, a line of unique jewelry made from repurposed keys stamped with inspirational messages like "Strength," "Love" and "Inspire." "I want people to wear the keys and embrace the word that's inscribed until they find someone who needs it more than they do," founder Caitlin Crosby explained. "I want them to pay it forward and then come back and write a story on why they gave the key away." The Giving Keys also "pays it forward" by employing almost a dozen people who have at one time or another been homeless.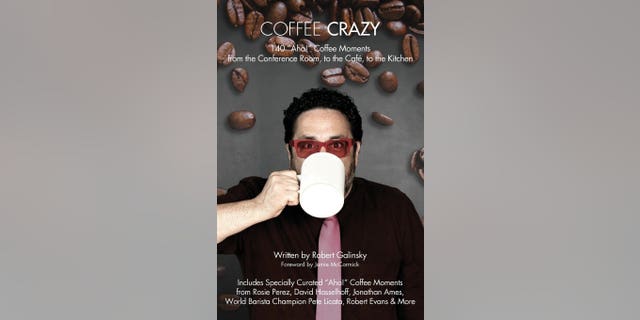 9. Rock Paper Photo
Do you have a serious rock fan on your list? Rock Paper Photo has an massive collection of fine art photography featuring limited edition–and mostly unpublished–prints of iconic musicians like David Bowie, Lou Reed and Jimi Hendrix. The selection of historic photos at Rock Paper Photo is somewhat overwhelming, so helpfully, they have curated a "featured collection" of some of their favorite images to help you get started on your shopping. A certificate of authenticity accompanies each hand-signed print.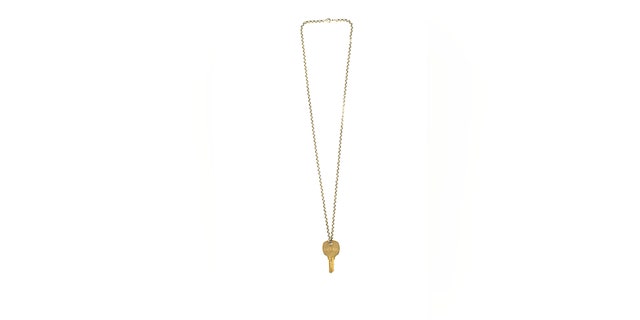 Rock Paper Photo, $250-$10,000
10. Urbani Truffles
Diddy is a fan of fungus, infamously insisting that servers at New York restaurant Daniel "shave this bitch" while dining during white truffle season. While most people can't afford to pay upwards of $200 per oz. for the delicacy, Urbani Truffles offers ketchup, curry and barbecue sauce in their Truffle Grill line, all featuring the flavor of the elusive fungi. Oprah Winfrey is a fan, as are celebrity chefs Mario Batali, Tom Colicchio and Joe Bastianich.
Urbani Truffles Truffle Grill Set, $55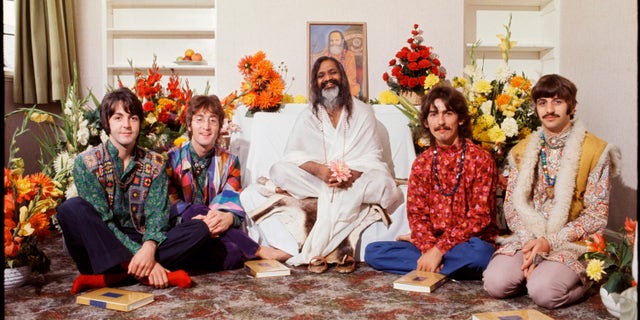 11. 'Balancing It All' by Candace Cameron Bure
Candace Cameron Bure, star of the classic '80s sitcom "Full House," credits her strong Christian faith in her success at being a mom, wife and actor in her new book, "Balancing It All." "It makes a fabulous gift because it's not a 'how-to' book or a lesson in time management," Bure told FOX411. "It's not about juggling more and more things in life or even about cutting things out. It's simply a book about making first things first and investing in the right things. Any woman can appreciate that, whether she's a busy stay-at-home mom or a busy professional."
12. Ettika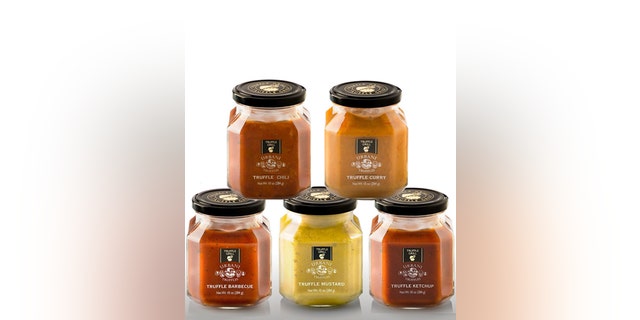 Gwen Stephani, Bar Rafaeli and Eva Longora are just a few of the celebs who love rocking Ettika, a line of jewelry designed and manufactured in the heart of downtown Los Angeles. "The Gilded Gate Bracelet is one of our best-sellers," Ettika proprietor Joey Rafaeli told FOX411 of the black leather and chain toggle bracelet. "It makes a great gift for the holidays."
Ettika Gilded Gate Bracelet, $88

13. 'For Once in My Life' by Mel B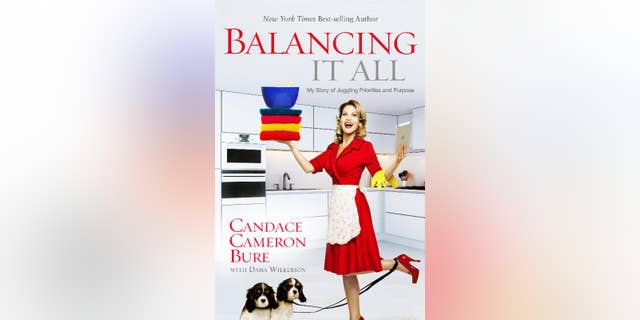 Have some Bitcoins collected and want to use the cyber cash to help spread some holiday cheer? Former Spice Girl Mel B can help! Beginning on Christmas Day, her new single, "For Once in My Life," is available for purchase using the virtual currency. "I love how new technology makes our lives easier–and to me, that's exciting," Mel B explained. "Bitcoin unites my fans around the world using one currency–they can just pay using Bitcoins!" The single is also available for purchase using US currency on iTunes.
"For Once in My Life" available for purchase on iTunes

14. Fitbit Zip Wireless Activity Tracker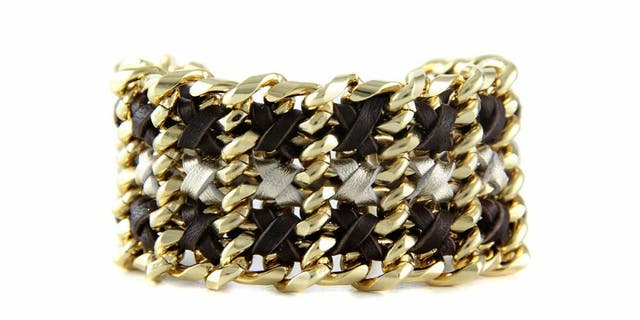 The New Year is just around the corner, and if someone on your list has resolved to get into shape, the FitBit can help! Kelly Ripa, Brook Burke, Maria Menounos and Ryan Reynolds are all fans of the device, which tracks your steps, distance run and calories burned. With the itty-bitty Fitbit Zip, you can follow your progress on your computer, tablet or smartphone and get the body of a celeb–just in time for the 2014 award season!
Fitbit Zip Wireless Activity Tracker, $60

15. Jeff Koons' Limited Edition Bottle of Dom Perignon
World-famous artist Jeff Koons may have been busy paling around with BFF Kim Kardashian and giving "art lessons" to baby North, but he did manage to find time to create a special, limited edition bottle of Dom Perignon for the holidays. The $20,000 version of the bubbly, which included a container shaped as one of Koons' balloon sculptures, is sold out in the US. But fear not! Two versions of the Jeff Koons' Limited Edition Dom Perignon gift box in are still available at select retailers.
2003 Dom Perignon Rose Jeff Koons Limited Edition, $300
2003 Dom Perignon Blanc Jeff Koons Limited Edition, $170