CBS scores with 15-Year NFL ratings high for Manning brothers' faceoff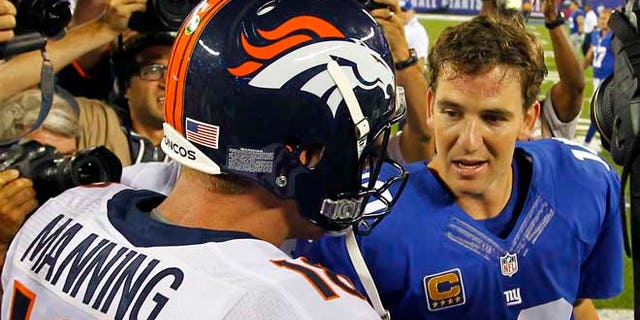 It was the Manning Bowl III on Sunday, and CBS got the touchdown.
As brother Peyton and his Denver Broncos beat younger brother Eli and his New York Giants 41-23, the network scored its best NFL On CBS ratings results since they re-acquired football rights in 1998.
With Jacksonville-Oakland on too, the Week 2 doubleheader drew a 17.8/24 overnight rating and share in metered markets. That's up a strong 24% from the 14.4/28 of last year's Week 2 NY Jets-Pittsburgh and Tennessee-San Diego games.
It is also the day's best NFL rating — including NBC's primetime Sunday Night Football. The previous NFL On CBS high was September 19, 2010, when the New England-NY Jets game drew a 16.7/32.
By the way, this is the third time in a row that Peyton has beat Eli in a regular-season game. Maybe the next Manning Bowl will come in this year's Super Bowl?