Carrie Underwood thanks God: I'm so blessed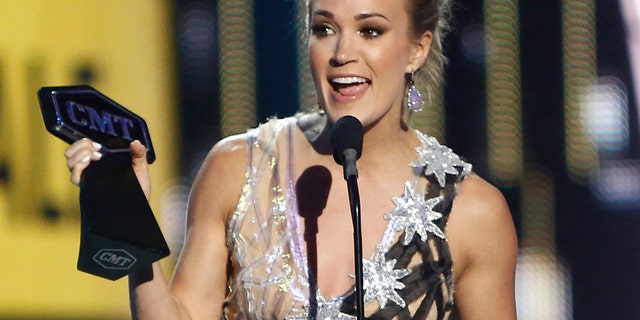 NEWYou can now listen to Fox News articles!
Carrie Underwood says she owes it all to God.
"Thank you God for so many incredible blessings that we have in our lives," Underwood said in her emotional acceptance speech at Wednesday night's CMT Awards.
"We are so grateful and we are so blessed," she added.
The singer and her husband Mike Fisher of the Nashville Predators have a lot to be thankful for these days. Fisher, will compete in the Stanley Cup Finals and Underwood made history as the most awarded act in CMT Awards history with 17 wins.
She walked away with both female video of the year for "Church Bells" and collaborative video for "The Fighter" at last night's show.
Faith has always played an important role in the country singer's life. She told Fox News in 2011 that faith is the reason for her success.
"I grew up in church and have a wonderful family that always supported that," Underwood said. "I grew up going to church camp and reading my bible and having different faith books and movies in my life."
She said it's easy to have faith when things are going well, but the true test is maintaining your relationship with God during tough times.