Candace Cameron Bure, Jodie Sweetin talk 'Fuller House' excitement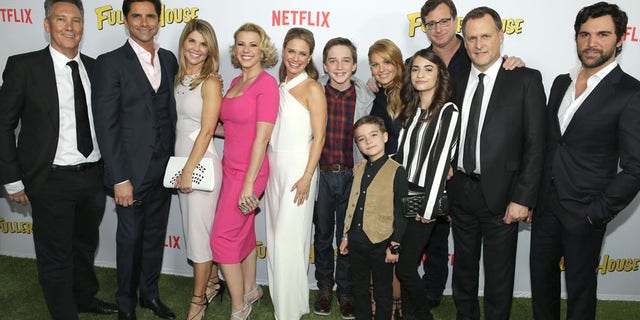 NEWYou can now listen to Fox News articles!
LOS ANGELES – The "Fuller House" cast was all smiles Tuesday night as they celebrated the premiere of their new Netflix series. The new imitates the plot line of "Full House," which ended in 1995, with the recently widowed D.J. Tanner-Fuller (Candace Cameron Bure) living in San Francisco with her three sons. She leans on younger sister Stephanie (Jodie Sweetin) and best friend Kimmy (Andrea Barber) for some help raising her boys.
Dave Coulier, who plays Joey, gave a glimpse into what fans can expect from "Fuller House."
"It is really Full House 2.0," he said. "It's kind of an update to the operating systems so it catches us all up with where we all are in our lives today, and so a lot of the same traditional family values of the old 'Full House' are going to be in this as well."
Bure told FOX411 stepping into the shoes of D.J. was an easy task for her.
"When you have played someone for eight years-- especially us ladies, it was our whole childhood-- you don't forget that," she said. "Whatever they wrote in the script, it's like getting on a bike."
Barber explained getting the cast back together was an emotional process.
"We just picked up right where we left off," Barber said. "The cast has never really lost touch in the last 29 years, so for us just being on the set again is just really emotional and overwhelming. It's like being together with brothers and sisters in your old childhood home."
Sweetin shared her hopes for this highly anticipated reboot.
"I am really excited for (the fans) to see what a great show 'Fuller House' is all on its own and not compare it necessarily to the old show but to watch it for the new show it is and I think fans are going to love it," she said.
The show has plenty of comedy, Sweetin added.
"I think it's very funny, and I am very jaded about comedy and I laugh!"
"Fuller House" premieres February 26th on Netflix.
Version:1.0 StartHTML:0000000128 EndHTML:0000000571 StartFragment:0000000134 EndFragment:0000000564 SourceURL:about:blank