Bryce Dallas Howard opens up about being raised by famous father, Ron Howard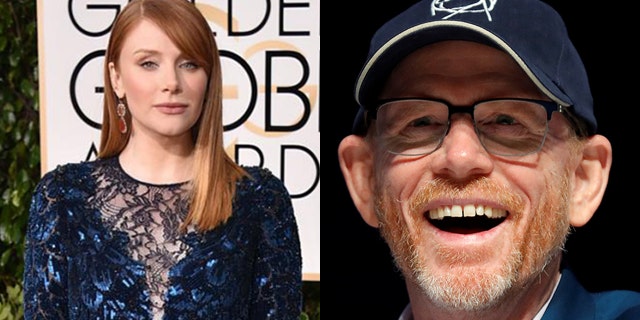 Although she grew up with an Academy Award-winning father, Bryce Dallas Howard wasn't able to appear in movies until she turned a certain age.
"I wasn't allowed to be in the background as an extra," Howard said on the Hollywood Foreign Press Association's HFPA In Conversation podcast on Thursdsay. "The rule was we had to be seven."
As for her first ever film appearance? The 37-year-old revealed that she made her debut in father Ron Howard's 1989 comedy "Parenthood" starring Steve Martin.
"But I was sitting in his [director's] chair, on his shoulders, hanging out kind of nonstop on set. I think that was really an incredible experience for me," shared the actress, who is now set to star in "Jurassic World: Fallen Kingdom" on Friday.
And by being on set 24/7, Bryce says she understood how talented her father was early on.
"I always knew that what he was doing was awesome and that his job was awesome because I was always on sets," explained the actress, adding that she even remembers being on the sets of films like "Cocoon" and "Splash."
"These were my earliest memories, and he was very inclusive of me in particular because I was the oldest, and I was the most interested," she explained. "And his parents were very inclusive with him, which is how he became an actor at the age of like four, and so I think because he was a prodigy, he just sort of assumed that we would all be like capable of understanding everything."
But it wasn't until Dallas was in high school that she decided to pursue acting.
"When I look back at my journals when I was a kid and stuff like that, it never occurred to me to be an actor, it really actually didn't occur to me to act until I was in high school. I was really into writing," admitted Dallas, who went on to share that the idea to become an actress happened during a summer camp.
"I think that, that was the first time that I was really like, 'Oh people really do this. This is fun. This is really, really fun, and people can do this,'" shared the actress, adding that she got to be a part of "Midsummer Night's Dream" alongside Natalie Portman.
"I remember I said at the end of the camp, I said to her, 'Oh gosh. I hope one day that you get to work with my day that would be so fun,' and she goes, 'Bryce. I hope I get to work with you," recalled Dallas.
"I was sort of taken aback for a second because I never thought of myself as someone who would be able to do that all."