Britney Embarks on First Concert Tour in 5 Years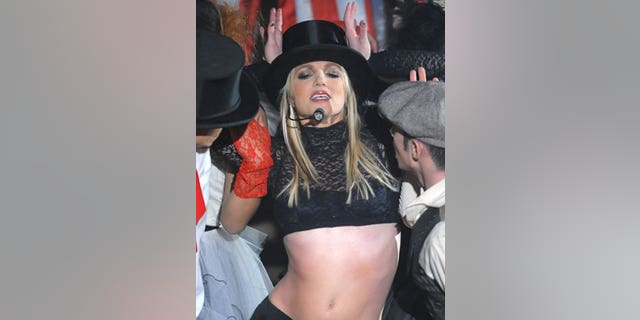 NEW ORLEANS – Britney Spears fans lined up outside the New Orleans Arena hours before the start of the pop star's first concert tour in five years.
They bought T-shirts at red-and-white striped tents set up outside the arena where Spears' "Circus" tour was to getting under way Tuesday night.
PHOTOS: Click for pics of Britney through the years.
"I love her," said 18-year-old Haley McInnis of Gonzales, La., wearing a circus-inspired ensemble that included a top hat and black high-heeled boots.
McInnis was among dozens of Louisiana fans out to support their hometown superstar, who in the past five years has gone through more tumult than many endure in a lifetime: She's been married and divorced, had two kids, gone to rehab, gone through a custody battle, found herself briefly committed, and been so out of control that her father, Jamie Spears, was appointed by a court to oversee her personal and professional affairs indefinitely.
But over the past year, Spears' life and career has rebounded. Her "Circus" CD, released in December, has already sold more than 1.3 million copies, and she's had two hits off the CD, "Womanizer" and "Circus."
"She's so strong, stronger than a lot of people give her credit for," McInnis said. "A lot of people wouldn't have come back from what she's been through."
Spears' comeback has been carefully orchestrated, beginning with well-received appearances on the sitcom "How I Met Your Mother" last year to her comeback appearance at the MTV Video Music Awards last fall following her disastrous performance on the awards show in 2007. She has given few interviews, and those that have been granted have been heavily managed.
Tuesday's "Circus" tour, which takes Spears to 27 cities in the United States before heading to Europe in June, is the pop star's biggest opportunity to connect with her still formidable fan base.
"We're so happy she's back," said 16-year-old Justin Scarbrough of New Orleans, wearing a T-shirt he designed himself that bears Spears' image and the words "I Support Britney Spears."
The tour is to feature a mix of her new material and some of the hits that made her one of the world's top-selling artists.
On Monday, MySpace Celebrity released snippets of video that gave a glimpse into what her show would look like: The circus-themed extravaganza includes dancers dangling from high wires, sultry dance moves and whip-wielding Spears dressed as the ringmaster, finally in control of her own circus.