Brett Kavanaugh accuser gets support from actresses like Amber Tamblyn, Marisa Tomei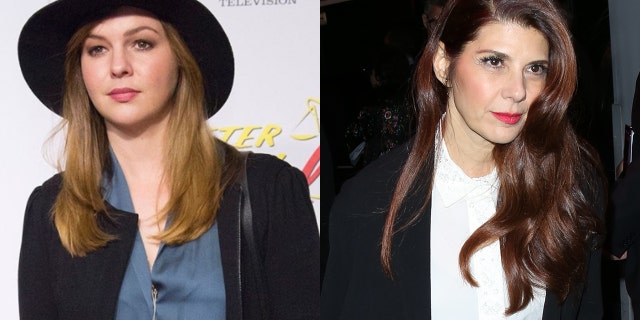 As the contentious battle to confirm Judge Brett Kavanaugh to the Supreme Court continues, many celebrities and activists are throwing their support behind the woman accusing him of sexual assault.
In an emotional video published to social media, stars Julianne Moore, Eva Longoria, America Ferrera, Gabrielle Union, Marisa Tomei, Amber Tamblyn and more voiced their support for Dr. Christine Blasey Ford. On Sunday, Ford accused Kavanaugh of sexually assaulting her at a party in 1982 while they were both in high school.
Kavanaugh has denied the allegations.
The stars gathered for the video to read a joint letter speaking on behalf of all those who believe Ford.
"Dear Professor Ford," actress Kelly McCreary begins, "We know how difficult it is to stand up to powerful people. We want to thank you for publicly sharing your story of sexual violence. As members of the Senate determine whether Supreme Court nominee Brett Kavanaugh should serve as a Supreme Court Justice, this context is critical. The behavior you described is wrong and runs directly counter to upholding the law and promoting justice. He should not be confirmed."
The confirmation hearings for President Trump's nominee for the Supreme Court concluded last week, but the vote has been postponed in light of Ford's allegations. Kavanaugh has agreed to testify before the Senate Judiciary Committee on Monday. Ford, however, remains uncertain about testifying, having asked the FBI to investigate her claims first.
In the new video, the women go on to note that Ford's story was made public on a national scale without her permission, but go on to support her in telling it further without necessarily mentioning testifying.
"We applaud your courage in coming forward for the public good, and we will be with you as you face the inevitable backlash. You are strong. And you are not alone. You are a survivor. Millions of us have your back. You and your testimony are credible. We believe you," the video letter concludes. "Signed, Your sisters."
The women in the video are not the first celebrities to use their social media platform to encourage viewers to get active in stopping the appointment of Kavanaugh to the Supreme Court. As previously reported, John Legend posted a video to his Twitter on Wednesday asking fans to call their government officials and voice their distaste.
"Who becomes the next Supreme Court Justice is the decision of a lifetime — your lifetime," said Legend. "Brett Kavanaugh's troubling views on the issues that matter most and his rushed confirmation process make him unfit for a lifetime appointment to the Supreme Court."