Bond Turns 50: Music of 007 movies made you feel 'like you were in Bond's skin'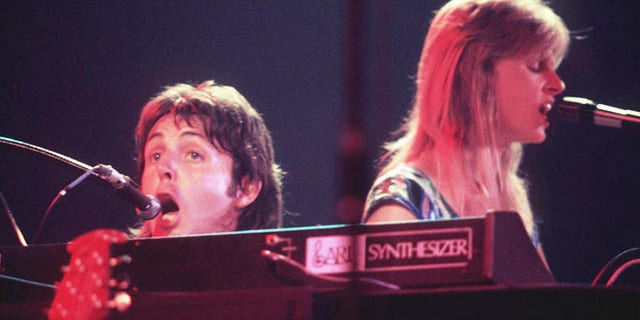 NEWYou can now listen to Fox News articles!
John Barry, the five-time Oscar winner and legendary composer of 11 James Bond films, often talked about the magic that happens when music meets the image. It's a potent combination, and no movie franchise has as strong a legacy or synergy between music and film than James Bond.
"The two of them become greater than the whole," Jon Burlingame, music historian and author of "The Music of James Bond," told FOX411. "When that does happen, it can be magic, like in 'Goldfinger' or 'Thunderball.' We remember those tunes in part because we associate them with movies we loved."
Burlingame's latest book chronicles 007's musical legacy from "Dr. No" to "Quantum of Solace," including the non-Eon productions "Casino Royale" (1967) and "Never Say Never Again" (1983). Burlingame's exhaustive behind the scenes look includes rare stories like producer Harry Saltzman's initial disdain for "Goldfinger," and the little known lawsuit surrounding "Thunderball's" "Mr. Kiss Kiss Bang Bang," performed by Shirley Bassey.
The insightful movie companion also reveals intimate anecdotes, such as an awkward moment when Saltzman suggested replacing Paul McCartney on "Live and Let Die," seemingly unaware of the former Beatle's incalculable global popularity, and thinking the singer just a temporary demo.
Or how about an overwhelmed Nancy Sinatra who, in 1967, couldn't complete a perfect take of the classic "You Only Live Twice." The final film version is edited together from two dozen cuts.
But all talk of Bond's music starts with its indelible theme.
"Monty Norman's credit as composer of the 'James Bond Theme' graces every Bond movie," Burlingame writes in his introduction. "And that piece is probably one of the dozen or so most-recognized musical signatures of all time. Even actor Sean Connery, the first to play 007 on the big screen, acknowledges its power: 'That theme gives the audience a direct connection to Bond. It's an instant recognition.'"
Bond's songs and scores have become also an instantly recognizable formula, one created by the late John Barry.
David Arnold, composer of the last five James Bond films, told FOX411 the Bond 'sound' is "a mixture of danger, thrills, swagger, sex and a kind of seductive violence," a result of John Barry's definitive musical creation that essentially casts a long shadow over the series and spawned a genre of music we now accept as 'spy music,' a formula emulated in everything from television shows like "Man from U.N.C.L.E" to spoofs like "Austin Powers."
Burlingame believes it's the music that has helped to propel James Bond into a global consciousness, all the while attracting high-level talent. "You wind up having Paul McCartney writing 'Live and Let Die' or Marvin Hamlisch scoring 'The Spy Who Loved Me' or Bill Conti doing 'For Your Eyes Only' and Michael Kamen, who in 1989, was the hottest action adventure composer, coming off of 'Die Hard' and 'Lethal Weapon,' doing 'License to Kill.'"
The musical talent lent to Bond is undeniable, from powerhouse lyricists like Don Black, Leslie Bricusse, and Tim Rice, to performers like Dame Shirley Bassey, Tom Jones, Louis Armstrong, Tina Turner and Chris Cornell, to the 10 composers that scored for Bond, including George Martin, Eric Serra, Michel Legrand and Burt Bacharach.
"Skyfall," continues the tradition of infusing high level musical talent into the franchise, with multi-Oscar nominated composer Thomas Newman ("American Beauty") taking the composing reigns while international sensation Adele provides the title song, which debuted No. 8 on Billboard's Top 100.
"Look at the tradition of amazing people who have sung these songs. Obviously Shirley Bassey," Bond co-producer Barbara Broccoli told FOX411. "Adele took it very seriously. When we asked her she said, I would like to approach this professionally and read the script and know a lot about the movie. I want to really get a sense of how I can get involved in this and bring something to it. She spent a lot of time working on the song and perfecting it."
The Bond tunes have certainly been products of their times, and Burlingame says looking back at the songs reveals changes in popular music and musical tastes.
"You wind up with what we today may think of middle-of-the-road kind of tunes with 'From Russia With Love,' or perhaps 'Thunderball,'" Burlingame said. "But then you go a rock-oriented way with Paul McCartney, and then you wind up with a soft-rock style of voice like Carly Simon in the mid-1970s. In the 80s, you shift into the MTV generation with groups like Duran Duran and ah-ha. Then in the 90s you end up with a song by Bono and the Edge."
Despite five decades of change, the Bond sound is still rooted in John Barry's original musical vision.
Burlingame says Barry brought a sense of style to James Bond, particularly with "Goldfinger," where "for the first time, he writes the melody of the song and then uses that for the basis of his score. John Barry realized that this needed to be partly traditionally orchestral, but also partly jazzy and partly pop-oriented, so that you had a unique hybrid of contemporary music styles laid over a more traditional orchestral sound."
"You could listen to his first full Bond score, 'From Russia with Love,' and within that score you could find James Bond completely." Arnold said. "He drew the character with music as fully as Sean Connery drew the character in his performance."
Barbara Broccoli agrees with Arnold's and Burlingame's sentiments, and says Barry is part of James Bond's DNA.
"He provided the adrenaline. You felt like you were inside Bond's body. You knew when he had a rush, you knew when he was frightened, when he was exhilarated and that all came from that music," she said. "You felt like you were in Bond's skin. And that was John Barry."
"The Music of James Bond" by Jon Burlingame is now available from Amazon.com.