'Blue Bloods' recap: Is Frank thinking of stepping down as commish?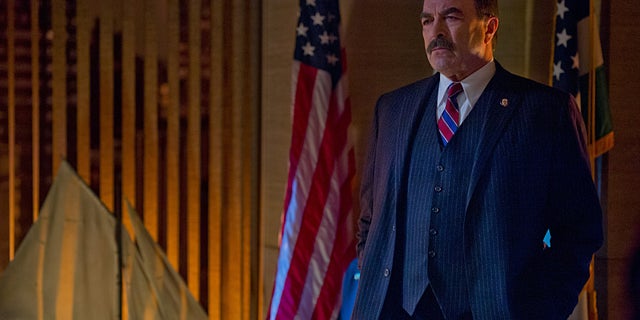 NEWYou can now listen to Fox News articles!
TV Recap: Will Frank quit as commish on 'Blue Bloods'?
[Spoiler alert! The following contains spoilers from "Blue Bloods"]
Frank Reagan (Tom Selleck) sends his staff and family into a tizzy when he hesitates about staying on as NYCPD Commissioner.
The drama ensues on Friday's episode of "Blue Bloods" after Frank proudly swears in a new police officer, Francisco, whom he rescued from a dumpster as a baby.
But a reporter at the news conference is more interested in the fact that it's been a few weeks since the mayor won reelection and Frank hasn't said whether he's staying on as commissioner for his next term.
Click here to subscribe to FOX411's YouTube channel
"I serve at the pleasure of the mayor," Frank stiffly explains. "We haven't yet had that conversation."
When asked if Frank is implying he won't be back, the commish barks, "I don't make that call, the mayor does."
Later, Frank causes even more controversy when he's asked again (at another press conference) if he'll return as commissioner.
Frank tries to dodge the question, but when pressed, sighs to reporters, "I don't know, how 'bout that"--a comment that raises the eyebrows of his longtime press rep, Garrett Moore (Gregory Jbara).
Viewers soon learn that Frank's feathers are ruffled because, as he moans to Garrett, he hasn't received the respect of a formal offer from the mayor while the politician has apparently been meeting with other commissioner candidates.
Garrett feels Frank has botched things by playing out his feud with the mayor in the press and behind the scenes the mayor definitely wants him to stay on board.
However, Garrett informs Frank that the mayor wants a guarantee he'll accept before they conduct a formal meeting -- and reminds him that he's his boss.
Frank's aides are worried about losing their jobs if he leaves and Garrett even tells Sid Gormley (Robert Clohessy) he's not sure what decision their leader will make.
At the Reagan Sunday dinner, Frank's family members discuss the issue while he's taking a phone call.
Danny (Donnie Wahlberg) says they need to support him whatever decision he makes. Jamie (Will Estes) believes their dad is the only commissioner candidate who has the ability after his many years as a cop.
Danny notes that Frank will have a hard time letting go of the job if he must and all agree to give him space to decide on his own.
But Frank winks to them that he was on the phone getting advice from Cardinal Brennan.
Saying grace, Frank concludes, "Thank all of you for the elbow room."
Later, Frank visits the hospital where his new LAPD officer Francisco and his wife have welcomed a baby boy. They tell him they're naming him Francis, after him.
Garrett appears and says the mayor is inviting him to a meeting right then and Frank is annoyed at the short notice.
When Garrett confronts him on if he wants to continue, Frank sighs, "I'm closer to the end than the beginning."
He claims he still loves his job, just not the politics.
However, Frank tells Garrett he'll stay on "until the mayor gets his head out of his ass."
"So, indefinitely," Garrett smiles.
Friday's "Blue Bloods" also shows Assistant District Attorney Erin (Bridget Moynahan) skipping her vacation to take over a case from another ADA which has been wrecked by a hung jury.
Victor and Louise Kendrick were carjacked and the husband wound up dead, with a black suspect, Angel Granderson, going on trial for the murder. However, one juror held out and when Erin visits him, he insists Granderson must be innocent because the only other eyewitness besides the wife never testified.
While the African-American juror admits he doesn't trust white people, he says Granderson's race didn't influence him.
"How come we never heard from the other eyewitness who said the shooter was a white man?" the guy asks Erin.
Erin understands his skepticism and goes to work with her investigator, who soon finds the prostitute witness – unfortunately, she can't be interviewed as she's been murdered.
After interviewing Angel in prison, Erin's gut tells her that he didn't commit the crime and the victim's wife Louise is lying.
Erin re-interviews Louise about how the carjacker tried to reach the keys before shooting her husband and she gets her details confused.
When Erin reunites with the P.I., she recalls it was "like Sarah Palin fielding foreign policy questions."
They follow Louise and find her kissing a man who turns out to be a felon and then, the jig is up when he sings to the police about how they planned the murder of her husband and also killed the witness.
"Blue Bloods" airs Friday on CBS.