Blake Lively explains how her 'life goal' involves Robert Redford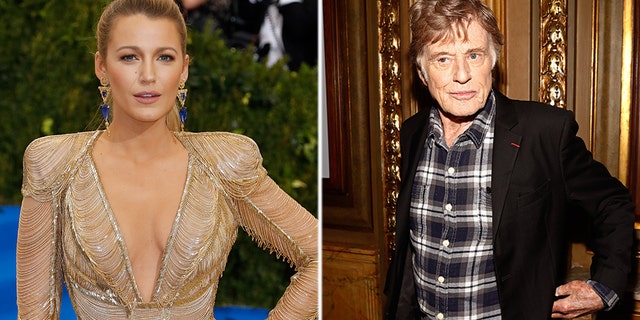 Blake Lively's fashion game is over-the-top... "Great Gatsby"-style over-the-top.
The 31-year-old actress, who has flawlessly sported menswear ensembles over the last few months, took to Twitter on Tuesday to share a side-by-side photo of herself and Robert Redford in "The Great Gatsby," both rocking powder pink suits. As Lively -- who wore her version of the suit to the U.K. premiere of "A Simple Favor" on Monday -- noted, it's been one of her "life goals" to be compared to Redford.
"Life Goal: To be in a Who Wore It Better with Robert Redford. ✅ Other Life Goal: to have less free time spent making photo collages of myself and Robert Redford," she joked.
Blake Lively Thinks Reporter Is Commenting on Her Chest and the Exchange Is the Best
While this fashion battle's pretty close, Lively, who previously channeled Pee-wee Herman in a stylish look in April, hasn't always been confident in her looks. Earlier this month, she showed a little bit more than she intended to with a sheer top underneath her suit jacket.
See the Stunning Designer Suits Blake Lively Wears in 'A Simple Favor'
"I didn't realize it was see-through, the shirt. That's not a look I was going for. Because it's a men's shirt!" she said on "The Tonight Show Starring Jimmy Fallon" on Thursday, as she proceeded to open up about an awkward encounter she had with a reporter that night.
"You know when you're freaking out about something and you know that's all anyone else is seeing?" she explained. "You know, you're aware of it, so everything everyone says is pointing out this thing you're paranoid about, but no one's really noticing."
As Lively recalled, she thought a reporter shouted, "Your t-ts are amazing!"
Blake Lively Jokes About How She and Ryan Reynolds Celebrated Their 6th Wedding Anniversary
"I'm like, 'What? Are we saying that? Have you been on Google in the past year? This is not OK,'" she said, referencing the #MeToo and Time's Up movements.
After a few minutes of confusion, the man added, "And your husband's tweets are even better!"
"And I'm like, 'Oh, tweets! Twitter!'" Lively said, laughing.