Billie Lourd to inherit hefty sum from Carrie Fisher's estate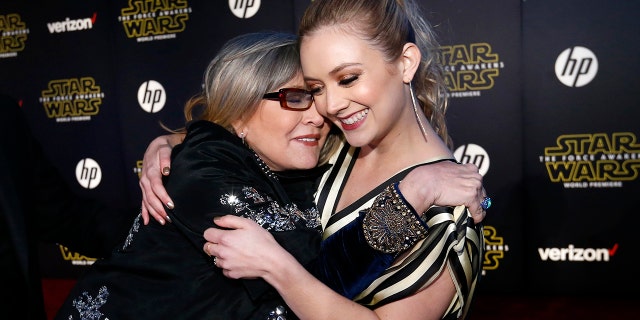 Billie Lourd has been working hard to get used to life without her grandmother and mother around. Now, new court documents reportedly reveal what the star's late mother left her after her passing.
Carrie Fisher, Lourd's mother, died in December 2016. It was previously reported that the late "Star Wars" actress left her daughter a slew of owned assets including bank accounts, a 2016 Tesla S, ownership of several LLCs and a life insurance policy. This doesn't even cover Fisher's various jewelry items, artwork and collectables.
Now, according to new documents obtained by People, fans have a slightly better idea of how much the "Scream Queens" star will inherit from her mother's estate. The outlet alleges that Lourd will receive at least $7 million in various inheritence from her late mom. Additionally, the 25-year-old actress is going to inherit the rights to her mother's very popular public image and likeness. This means all proceeds from Fisher's books and other trademarks and copyrights now go right to Lourd.
Recently, "Star Wars: The Last Jedi" actor John Boyega opened up about the upcoming film and how it became an unexpected homage to the late actress. Fisher was reportedly going to have a big role in "Star Wars" parts eight and nine, but those plans had to be changed when she died in 2016.
"I just feel like ['The Last Jedi'] pays homage to them in general," he said of Fisher and co-star Mark Hamil's characters to The Hollywood Reporter. "But unfortunately, now that she's passed, it does have a deeper meaning."