Billie Lourd handling her family's loss 'very well,' says 'Scream Queens' co-star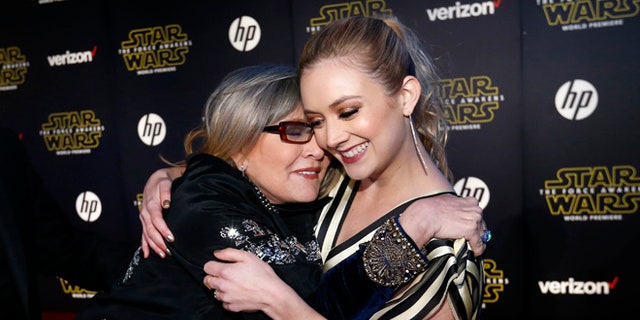 NEWYou can now listen to Fox News articles!
It's been an incredibly difficult few weeks for actress Billie Lourd. The "Scream Queens" star lost her mother, Carrie Fisher, and her grandmother, Debbie Reynolds, all in the same week in late December.
Lourd's co-star and friend, Glen Powell, opened up to ET's Desiree Murphy at the Entertainment Weekly Pre-SAG Awards party on Saturday night about the losses.
WATCH: Carrie Fisher's Daughter Billie Lourd Enjoys a Night Out With 'Supremely Supportive' Friends -- See the Fun Photo
"I saw Billie last week. If there's anybody that can take something so tragic in their life happening, it's Billie," Powell told ET. "She's a person who was raised by two very strong women and she's a very strong woman. You know, I think she's digesting it very well. She's very emotionally intelligent, and I think she's got a great group of friends around her that are supporting her, and I hope I am one of them."
Powell himself was very inspired by Lourd's late grandmother, saying, "Well, Debbie Reynolds, I mean, was probably my first crush. Singin' In the Rain is one of my favorite movies of all time."
Lourd has gotten lots of support from her co-stars and friends recently, including co-star and boyfriend Taylor Lautner. In late December, he posted a pic of Lourd to Instagram, praising her strength.

WATCH: Billie Lourd and Taylor Lautner Spotted for First Time Since Carrie Fisher and Debbie Reynolds' Funeral: Pic
"This girl is one of the strongest, most fearless individuals I've ever met," Lautner captioned a photo of his girlfriend on Instagram. "Absolutely beautiful inside and out. I'm lucky to know you @praisethelourd."