Bill Cosby's future is in the hands of the jury as defense, prosecution rest their cases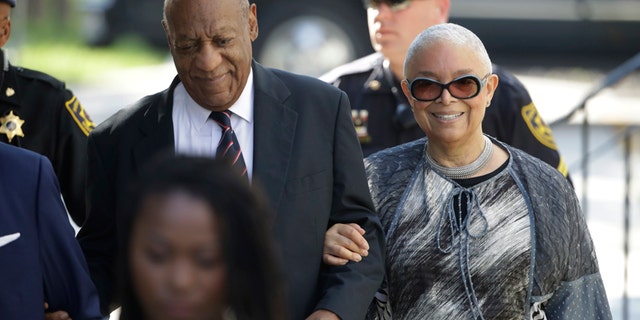 Bill Cosby's lawyer called accuser Andrea Constand "a liar" during his nearly two-hour long closing argument in the comedian's sexual assault trial Monday. The prosecution countered that claim in a two-hour-plus closing argument of his own that followed.
Now, it's up to the jury. They spent 4 hours deliberating before being sent back to the hotel to continue Tuesday. The star could spend the rest of his life behind bars if convicted.
Cosby's attorney Brian McMonagle argued that Constand and Cosby had a year-long consensual relationship. He admitted Cosby failed his wife Camille by having an extramarital affair, but said his client is being prosecuted now because of a media firestorm after excerpts from his lurid deposition became public.
McMonagle pointed at Cosby's wife of 53 years several times during his closing statements to emphasize his points. This is the first time Camille Cosby joined her husband in court since the start of his sexual assault trial last week.
Montgomery County District Attorney Kevin Steele then addressed the jury, calling the sexual assault trial a "very straightforward case."
"He assaulted her. Drugging somebody and putting them in position is not romantic, it's criminal," Steele told the court.

Cosby's defense team called just one witness on Monday and then promptly rested its case. Cosby's team called up the detective who led the 2005 investigation into allegations Cosby drugged and violated Andrea Constand at his suburban Philadelphia home.
Detective Richard Schaffer was one of 12 witnesses who testified during the five-day prosecution case.
Cosby attorneys said they would not call any character witnesses. Then, Judge Steven O'Neill shot down the defense's bid to call a second witness, a woman who worked with Constand at Cosby's alma mater, Temple University.
The defense rested their case after questioning Schaffer for approximately four minutes.
The prosecution rested its case Friday after five swift days of testimony in the case that could send the 79-year-old Cosby to prison for the rest of his life.
Accuser Constand, 44, has told her side of the story. The jury also heard Cosby's version in the form of his police statement and his lurid deposition in her 2005 lawsuit.
The defense's main goal this past week has been to attack the credibility of Constand and another accuser who was called to the stand, William Morris assistant Kelly Johnson.
Constand filed a police complaint in January 2005 after moving back home to the Toronto area, and then sued Cosby in March 2005 when the local prosecutor decided not to charge him.
Cosby's testimony in her civil case shows just how hard a witness he would have been to control. His answers, like his comedy routines, meandered from point to point and veered toward stream of consciousness.
And he used jarring language to describe his sexual encounters with various young women. He spoke in the deposition of "the penile entrance" and "digital penetration." And he displayed hints of arrogance.
"One of the greatest storytellers in the world and I'm failing," Cosby said when asked to repeat an answer in the deposition.
In his final arguments, Steele reminded jurors about a telephone conversation in which Cosby apologized to Constand's mother and described himself as a "sick man."

Fox News' Tamara Gitt and the Associated Press contributed to this report.