Big & Rich member slams Nike over Colin Kaepernick ad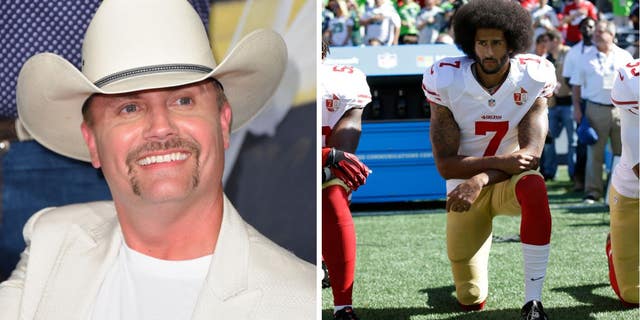 John Rich, half of the Big & Rich country duo, slammed Nike Tuesday after the company announced it would make embattled former quarterback Colin Kaepernick the face of its new "Just Do It" campaign.
The "Save a Horse [Ride a Cowboy]" singer took to social media to point out the time when Kaepernick wore socks that depicted cops as pigs during practice on Aug. 10, 2016.
"Hey Nike I guess you made Kaepernick your new 'face' of the brand because you love the way his socks look with your shoes? Reebok here we come," he tweeted.
Rich tweeted later a picture of Nike socks with the logos cut off from the clothing.
COUNTRY STAR ASHLEY MONROE SAYS MIRANDA LAMBERT DIDN'T LIKE HER AT FIRST
"Our soundman just cut the Nike swoosh off his socks. Former Marine. Get ready Nike. Multiply that by the millions," he tweeted.
Rich continued to tweet about Nike, predicting the company's stock would fall this week.
"I support every American's right to protest whatever they want. However, if you endorse someone who wears #pigsocks that's where you lose me. If Nike wants their 'swoosh' to be associated with calling our police 'pigs' then so be it. I have a right to not buy their products," he tweeted.
The company received significant backlash after announcing the deal with Kaepernick. Some social media users filmed themselves burning Nike sneakers in protest.
GEORGE STRAIT HEARTBROKEN OVER SUDDEN DEATH OF LONGTIME DRUMMER
Despite this, since announcing Kaepernick as the face of their new campaign, the athletics company has received more than $43 million worth of media exposure, according to Bloomberg.
Kaepernick began a wave of protests from NFL players two seasons ago by kneeling during the national anthem to make a statement against police brutality and racial inequality. The protests have grown into one of the most polarizing issues in sports and prompted a reaction from President Trump, who urged the league to suspend or fire players who demonstrate during the anthem.
Fox News' Ryan Gaydos and the Associated Press contributed to this report.