'Big Hero 6' wins box office race this weekend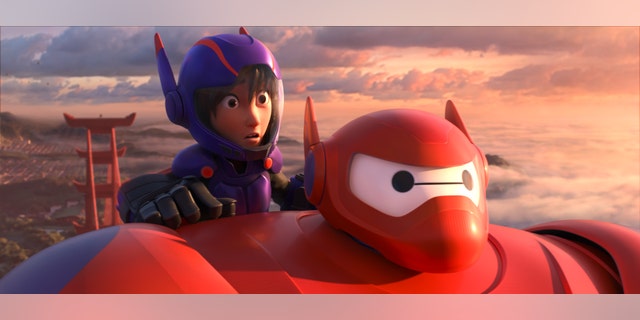 Family audiences lifted "Big Hero 6″ over "Interstellar" and the fanboys and girls who turned out in force for Christopher Nolan's space adventure in one of the fiercest box office match ups of the year reports Variety.
"Big Hero 6″ topped the charts with $56.2 million from 3,761 locations, continuing Walt Disney Animation Studios' recent hot streak. After the success of "Frozen" and "Wreck It Ralph," the division is no longer the also-run to Pixar, its corporate cousin.
"Interstellar" scored a sizable $50 million from 3,561 locations, according to studio estimates. If "Interstellar's" numbers hold, it will mark only the fourth time in history that two films have debuted to more than $50 million at the domestic box office, and each one of the previous occasions took place in the summer when ticket sales are at their highest.
Both films carry massive $165 million price tags, so in order to turn a profit, they must resonate with viewers across the globe. They also will need to demonstrate staying power. Nolan's "Inception," another trippy blockbuster, managed to become one of 2010's biggest hits because it was a box office Energizer Bunny, holding on to first place on the charts for three consecutive weeks and dropping a meagre 32% and 35% in its second and third weekends.
Likewise, Walt Disney Studios' recent global blockbuster "Frozen" refused to loosen its hold on audiences. Despite opening over Thanksgiving, it continued to generate impressive returns through February of 2014. Having a ubiquitous power ballad like "Let it Go" didn't hurt matters.
Paramount Pictures released "Interstellar" domestically, while Warner Bros. handled the foreign rollout. "Interstellar" kicked off in few hundred Imax and film projection locations on Tuesday before expanding on Thursday evening. Its total is $52.1 million.
The film stars Matthew McConaughey, Anne Hathaway and Jessica Chastain and centers on a group of space explores who leave an ecologically devastated earth to travel through wormholes in order to find a new home for humanity. Popular and critical response has been polarized — some hail it as visionary, others default it for being ponderous.
"Big Hero 6″ has enjoyed warmer reviews ( a 91% "Fresh" rating on Rotten Tomatoes versus a 73% mark for "Interstellar). Loosely based on a Marvel Comics series of the same name, the film follows a science prodigy and his lovable robot as they stumble upon a criminal conspiracy. Co-directed by Don Hall ("Winnie the Pooh") and Chris Williams ("Bolt") the film's voice cast features Scott Adsit, Damon Wayans Jr. and Maya Rudolph.
"Interstellar" and "Big Hero 6's" big grosses didn't result in much in the way of leftovers. "Gone Girl" scored third place with $6.1 million bringing its total to $145 million, while "Ouija" captured fourth place with $6 million, pushing its earnings to $43.5 million. "Fury" rolled into fifth position with $5.5 million, propelling it to $69.3 million domestically.
In limited release, Focus Features bowed Oscar hopeful "The Theory of Everything" in five locations across New York, Los Angles, and Toronto. The biopic about astrophysicist Stephen Hawking and his relationship with his first wife picked up $206,000 . Eddie Redmayne is exciting serious awards buzz for his turn as Hawking and the film is viewed as a Best Picture contender, which could help "Theory of Everything" capture audience attention as it expands.
The Edward Snowden documentary "Citizenfour" continued to impress, earning $207,834 from 59 screens, for a $3,523 per-screen average. The Radius-TWC release has picked up $667,293 after three weeks. Sony Pictures Classics expanding the indie drama "Whiplash" from 61 to 88 screens, where it picked up $346,732, for a per screen average of 3,826, and brought its earnings to $1.5 million.
"Birdman" continued to fly high on gonzo wings. The Fox Searchlight backstage comedy doubled its screen count to 462, earning $2.3 million in the process. In four weeks, it has earned $8.1 million.