'Big Bang Theory' star Kaley Cuoco opens up about her marriage with Karl Cook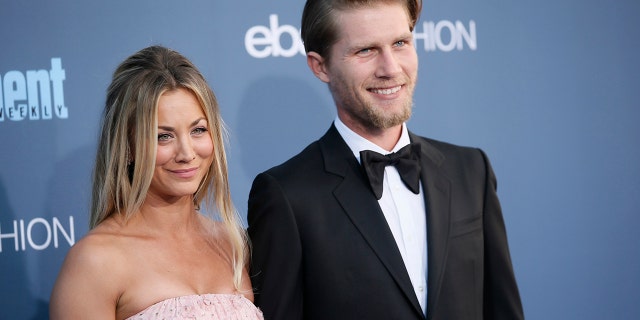 Kaley Cuoco is gushing over her man!
ET's Deidre Behar caught up with Cuoco and her husband, Karl Cook, just before the 32-year-old actress hosted the annual Stand Up for Pits comedy benefit show in Los Angeles, California, on Sunday. The adorable couple, who tied the knot back in June, couldn't stop raving about married life.
"It's the best ever," Cuoco exclaimed of wedded bliss to her 27-year-old equestrian husband.
Though for some couples marriage doesn't change anything in their relationship, for Cuoco and Cook, it definitely helped them to grow as a pair.
Kaley Cuoco Claps Back at Instagram Haters Asking If She's Pregnant
"I know some people say it shouldn't change, it should be the same, but you know for me it did," Cuoco explained. "I'm just so happy to come home to him everyday. He's my dream guy."
Cook agreed, saying, "It's great. I think... you learn to [be] better together and that's the joy."
One thing the couple bonded over -- and even incorporated into their wedding -- was their shared love of animals.
"We're lucky that we both share the same love for animals," the "Big Bang Theory" star said. "That's kind of what brought us together in the first place. So, we have a lot in common."
Kaley Cuoco Says She Doesn't 'Need' Husband Karl Cook When It Comes to Money
Spontaneity is another key to their relationship, so much so that they decided to adopt multiple rabbits on a whim.
"She wakes up and she's like, 'I want to adopt a rabbit,' and by the end of the day we had two white albino rabbits," Cook recalled.
"I woke up and said I wanted them and he goes, 'Let's go,'" Cuoco said. "So we went and we have eight rabbits now. I have an illegal amount of rabbits that I've rescued and he's totally supportive of me."
Rabbits aren't the only animals that the couple is looking into adopting; Cuoco has her eye on some pigs too.
"The other day she goes, 'Honey how do you feel about pigs?'" Cook revealed. "And I said, 'Honey just adopt it.'"
Kaley Cuoco Reveals Whether She and Husband Karl Cook Are Ready for Kids
"This is why I love him," Cuoco exclaimed.
Last month, Cuoco told ET's Denny Directo that she's "not there yet" when it comes to having kids, but, despite that, she already knows what values she wants to instill in her future children.
"It's animal rights," she said of her number one lesson for her future offspring. "... I think you need to be independent and you need to have your own life and your own situation and then whoever comes into it makes it even more magical. But yes, treating humans with respect, treating animals with respect. It says a lot about you and it starts at a very, very young age."