'Bachelor' Chris Soules reveals why Whitney didn't show at 'DWTS'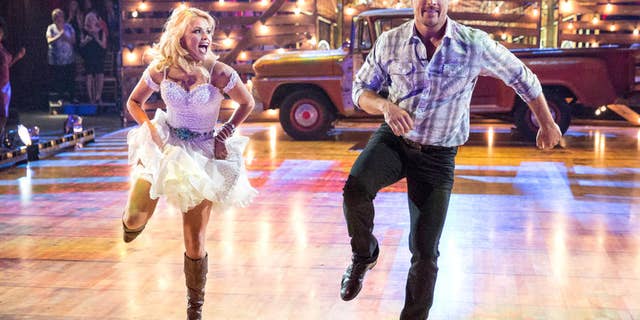 Rumors have been swirling that the relationship between "The Bachelor" star Chris Soules and his fiancée Whitney Bischoff is on the rocks after she went back to her hometown of Chicago last week instead of watching her man compete on "Dancing with the Stars."
Adding fuel to the fire, Bischoff was spotted enjoying the Kentucky Derby on her own this past Saturday.
And at Monday night's "Dancing With The Stars" taping, the blonde fertility nurse was MIA again as Soules performed two dances with his pro partner Witney Carson. (Soules' mom led his cheering squad instead).
Subscribe to FOX411's new YouTube entertainment video page
But the handsome Iowa farmer explained to reporters backstage that there was a tragic reason Bischoff couldn't be in the audience.
"She's actually with family today. It's actually the anniversary of her mom's death," Soules said.
As "The Bachelor" fans know, Bischoff told Soules on camera that her mother died ten years ago when she suffered a blood clot while undergoing a routine procedure.
Soules elaborated to FOX411 about Bischoff marking the sad anniversary, "It was tough. I thought about her all week [because] she was going to be feeling those emotions again."
After the show, on which the reality TV hunk earned a combined score of 64 out of 80 for two dances, Soules insisted there's no trouble with his engagement, and he and Bischoff are balancing their respective schedules as he pursues the grueling "DWTS" journey.
"She's able to kind of live. I'm kind of focused on trying to get the mirror ball," he said. "I have her in the evenings, we talk about the day and she's my number one fan. I know she's there for me and when all this is over, it will be nice to just be together."
When asked if he'd vacation with Bischoff after his "DWTS" experience ends (Soules could be on the chopping block in a nail-biting double elimination Tuesday night), he replied, "I think I'll probably sleep for three days and then I'll probably take a vacation."
Soules said he's largely ignored Internet speculation that the pair have split up.
"We've never been big social media people," he noted. "A lot of people are like, why aren't they posting pictures? It's not really who we are as a couple. We're together and we're in love and we're handling this like two adults. She's got a life, too. She's got a job and she's got a career and she's doing that. She's gotta do what makes her happy and I'm focused on [DWTS] and having a great time and she's happy for me.
"We're making the best of a really cool situation that we're both a part of that's not going to last much longer. I think that people pay way too much attention to other people's lives. We're just normal people and living a kind of abnormal life for a couple more weeks," he said.
Meanwhile, Soules is happy his dance pro Carson has propelled him into week eight of "DWTS," saying, "We've always had a lot of fun together. It's been the best part of being here. We're working hard and we get along really, really well."
Soules is hoping that Bischoff will be able to come back to the show next week if he and Carson are voted through.
"This week was the Kentucky Derby and her mom's anniversary," he told reporters. "This was the week for her to do something for herself. Hopefully she'll be back here for me next week."