As FIFA heads roll, new film touting soccer organization gets U.S. release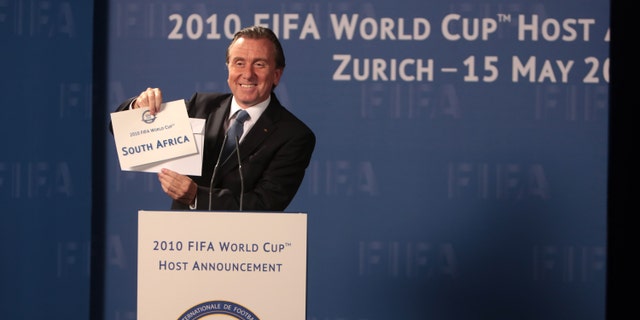 NEW YORK (AP) – The FIFA saga, already awash in alleged corruption, international intrigue and long-arm justice, can now add irony to its unwinding tale.
On Friday, just nine days after FIFA officials and executives were dramatically indicted for what the Department of Justice claimed was pervasive racketing and bribery in international soccer, a movie largely paid for by FIFA and trumpeting its glories is set to open in a handful of U.S. theaters and on video-on-demand.
"United Passions" is a $30-million production starring some big names, including Tim Roth as FIFA president, Sepp Blatter, who himself resigned Tuesday after winning re-election just last week. It's a starry fiction that casts FIFA's history and its leaders in a glowing light, just as hard reality is crashing down on an organization long viewed as a bastion of corruption.
The timing is largely a matter of luck or misfortune, depending how you look at it. "United Passion," directed by French filmmaker Frédéric Auburtin ("Paris, Je T'Aime") and also starring Gérard Depardieu as World Cup creator Jules Rimet and Sam Neill as former FIFA president João Havelange, first debuted last summer ahead of the 2014 World Cup.
But after premiering at the Cannes Film Festival, it was released in only a handful of countries and went straight to DVD in France. Screen Media Films, which is distributing the film in the U.S., scheduled the release months ago to coincide with FIFA's presidential election and the upcoming women's World Cup.
"We're not here to promote FIFA's image," says Suzanne Blench, president of Screen Media. "They made this film. I'm releasing this film because it's a soccer story. We're not here to try to do anything to alter the truth of what's happening. It's a biopic. Liberties are taken. We are just giving people a chance to take a look at it."
"United Passions" has the benefit of being uncommonly timely and the embarrassment of having its faux-narrative blown apart by real-world events.
The film tells the 110-year history of the Fédération Internationale de Football Association, skipping from president to president. Its official tagline earlier promoted it as a the heroic story of "three deeply ethical men." In one scene set in 1998, Roth's Blatter is cast as the upholder of ethics: "The slightest breach of ethics will be severely punished," he chides.
About 80 percent of the movie was financed by FIFA, and its executives were deeply involved. In a letter to FIFA members last June, Jerome Valcke, secretary general, wrote that the film is an "open, self-critical and highly enjoyable" story of FIFA. Valcke is currently under scrutiny for allegedly helping authorize $10 million in bribes for World Cup bidding votes, which he has denied.
The close involvement with FIFA has opened up "United Passion" to a lot of scorn. On "Last Week Tonight," John Oliver wondered: "Who makes a sports film where the heroes are the executives?"
Auburtin, speaking by phone from France, said he didn't want to heap further criticism on FIFA, but also noted he's happily now very distant from the film, beginning work on a new film. "I've moved on," he says. "It's behind me, far away."
Did Auburtin know what he was getting into? Only to a certain degree, he says, noting he was hired by a production company, not FIFA, and that FIFA's financial backing of the movie doubled just before shooting started. But he knew he would be limited in how he presented the federation.
"I'm not so dumb," says Auburtin. "I knew that FIFA producing the film for around 80 or more percent, it would be narrow for me to say more things that I wanted to say before. You don't bite the hand that's feeding you."
The film does show the way money greased the way for various decisions, even the location of the first World Cup (Uruguay). And it depicts the encroaching power of big business and corporate sponsors into a once simple sport. Now, Auburtin notes, referring to the events of the last week, "We are in the 'Godfather' movie."
"I wanted with this film always to be honest with the audience and honest with my producers, and FIFA are part of the producers," Auburtin says. "You have to be honest with them, too, even if everything is rotten in the kingdom of Denmark, as Marcellus says in 'Hamlet.'"
Auburtin describes an arduous process of trying desperately to find a way to tell a 100-year history flatteringly but also inserting whatever subtext he could.
"I accept that people don't like the film," he says. "Maybe I don't have any distance, but I watch a lot of movies. I don't think it's such crap. This is a real movie telling a story. I knew it couldn't be something else with all the conditions."
"What I regret, of course, is to be associated with such a big disaster, which is what's happening to FIFA right now," he adds. "Everything is rotten with sport and business."
Like us on Facebook
Follow us on Twitter & Instagram