'Arrested Development' cast talked Jeffrey Tambor, revealed on-set fight with Jessica Walter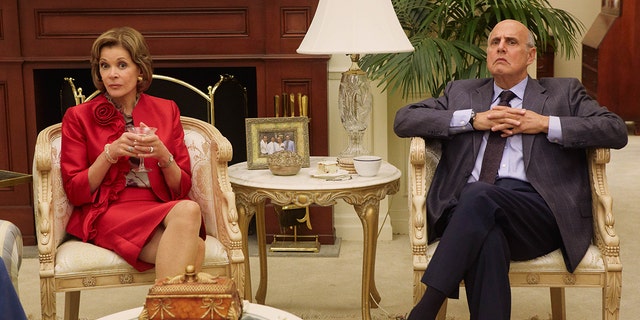 With "Arrested Development" about to drop on Netflix, the cast sat down for a freewheeling interview where they were asked about the misconduct allegations against cast member Jeffrey Tambor, leading to a reveal about abuse between he and his on-screen wife.
The cast members sat down for an interview in which they were asked about the allegations against Tambor that came out about his conduct on the set of "Transparent." As previously reported, three people connected to the production of the Emmy-winning accused Tambor of sexual misconduct and harassment. He has since been removed from the show as it continues on without him.
The 73-year-old has denied the allegations and was allowed to participate in "Arrested Development" Season 5, which wrapped filming right around the time that it wrapped filming. In an interview with The New York Times, the cast was asked about the allegations against Tambor, prompting costar Jason Bateman to defend his on-screen father. The star declared that he would not be a part of another season of the fan-beloved series in the event Tambor wasn't asked to participate.
Tambor was then asked about a quote he gave to The Hollywood Reporter in which he revealed that he had an on-set argument with his "Arrested" on-screen wife, Jessica Walter.
"Which we've all done, by the way," Bateman interjected.
"You've never yelled at me," Walter responded. "You have never yelled at me like that."
" Let me just say one thing that I just realized in this conversation," Walter said through tears. "I have to let go of being angry at him. He never crossed the line on our show, with any, you know, sexual whatever. Verbally, yes, he harassed me, but he did apologize. I have to let it go. [Turns to Tambor.] And I have to give you a chance to, you know, for us to be friends again."
Although Bateman continued to explain Tambor's behavior as par-for-the-course in showbusiness, Walter noted that in her 60 years of working, she'd never had anybody yell at her the way Tambor did.
Tony Hale chimed in to agree with Bateman that this kind of stuff happens, but Walter wasn't having it.
"But not like that, not like that," she said. "That was bad."
She went on to note that Tambor has since apologized and that she's willing to work with him again largely because he was willing to admit his wrongdoing and commit to change. Sadly for curious fans, the duo did not elaborate on what happened in the alleged blowout or what it was reportedly over. However, as Us Weekly notes, many fans who read the interview were quick to side with her over the rest of her on-screen family.