Arnold Schwarzenegger says Kasich should run against Trump in 2020
Arnold Schwarzenegger has made it clear he is no fan of President Donald Trump. In fact, he has an idea of who should face-off against Trump in the next election.
The actor-turned-politician thinks Republican Ohio Gov. John Kasich should run again for the White House in 2020, effectively endorsing a primary challenge to President Trump.

The former Republican California governor shared his thoughts on Kasich with the Los Angeles Times in an interview published Wednesday.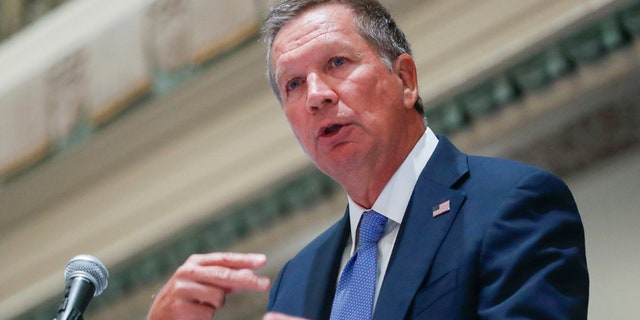 "Kasich is an extraordinary guy. He's a man of substance. He's worked in Washington, he's worked in local government, he's worked in statewide government. He has the experience. He can see things. He has vision," Schwarzenegger said. "He's also a moderate. He's a tough Republican and very fiscally conservative, but he also at the same time loves helping people."
Schwarzenegger also backed Kasich for president in 2016. The two men are friends and work together annually on the Arnold Classic bodybuilding competition in Ohio.
There is no love lost between Trump and Schwarzenegger. Schwarzenegger replaced him as the host of "Celebrity Apprentice," and Trump repeatedly made comments about the actor's poor television ratings.
For his part, Kasich says he's not running for anything.
The Associated Press contributed to this report.