Ariana Grande's manager Scooter Braun says singer saw 'the light' after 's---ty boyfriends' left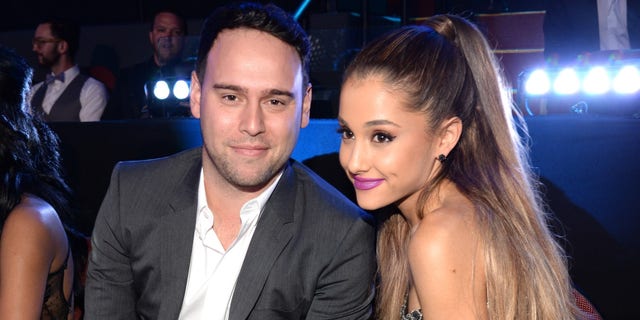 Ariana Grande's manager Scooter Braun recalled being fired by the singer and how she began "to see the light" after her "s---ty boyfriends" left.
Braun told Variety on Tuesday that he chose not to confront Grande about issues prior to being let go. The "God is a Woman" singer and Braun parted ways in February 2016 before returning as her manager seven months later.
"With Ariana, I could have said a lot of stuff, and in fact my team wanted me to, because they were pissed," Braun told Variety. "But I said 'We're not gonna say a word, and this is gonna come back around.' They were like, 'Never take her back!,' but I just said 'Let's stay quiet and let our truth be our actions.'"
Braun said when Grande's "s---ty" boyfriends" were out of the picture, the singer began "to see the light on some stuff," prompting her to call him. The two had a "very honest conversation" that led to Grande rehiring him as her manager.
He doesn't specifically mention which one of Grande's former love interests he is referring to. Grande had dated rapper Big Sean until April 2015 and started dating Mac Miller in August 2016.
Braun said the incident made him a better manager.
"It allowed me to know that I can be fired — I had never been fired before. It made me know that as much as you give to people in a service business — we do a lot of asset business, but this is a service business — you can never expect anyone to reciprocate," he added.
He also said his relationship with Grande changed for the better.
"That relationship we had, from being fired to getting back together, really gave us the strength for what we never imagined would come that following year," he said, referring to the terror attack at Grande's Manchester concert in 2017.