Argentinian Guillermo Grispo is the man behind the 'Kingsman' fight scenes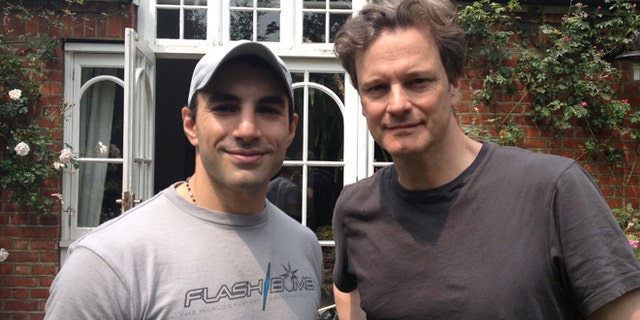 NEWYou can now listen to Fox News articles!
Among the many unseen talents behind "Kingsman" is a fit Argentinian, Guillermo Grispo, a stunt artist who choreographed the many fight scenes that pump up the new spy movie.
Grispo specializes in fighting. He was around 8 years old when he started learning Taekwondo before taking up Aikido.
His love for martial arts eventually took him from his native Argentina to places like Japan, Europe, New York and Montreal, where he was first introduced to the behind-the-scenes world of stunt work and fight scene choreography.
"I met actor Wesley Snipes, who was working on his film 'Blade 2'," Grispo, 41, told Fox News Latino in an interview from Russia.
Although he didn't make it to the iconic fight movie, Grispo got the filmmaking bug and moved permanently to Canada, where he began doing small stunt parts while still learning various other martial arts like Russian sambo, Brazilian jiu jitsu, Filipino boxing and traditional Japanese sword fighting.
Eventually, his work in films starting picking up and in 2006, after a work trip to Russia, he debuted as a stunt actor there in a small film called "300" — he has since gone on to work in films like "X-Men: First Class," "Kickass," "Conan" and "Iron Man 2."
In addition to his stunt work, Grispo has been the fight scene choreographer behind many of these films, including the upcoming Colin Firth film "Kingsman: The Secret Service," where he is credited as fight coordinator.
"I've had to learn other sets of skills that I didn't have before," Grispo said of the preparation for this movie, out Friday. "I have had the fortune of meeting and working with other choreographers who have helped me learn my craft. I say that my university has been working in films."
In "Kingsman," he said, the idea was to keep the style of fighting very close to what was established in the comic. He added that the director Matthew Vaughn trusted them to have something new and refreshing when it came to developing the various fight scenes.
Grispo said working with Firth, whose film background tends to be more on the drama side, not action, was fun.
"Kingsman," an action comedy movie, is based on the comic book "The Secret Service" and also stars Michael Caine, Samuel L. Jackson and newcomer Taron Egerton. But Firth, who plays the title role, was the one he worked most closely with.
"Colin was out of his comfort zone and surprised me because he came willing to do the fight movements," he said.
For his scenes, Grispo used an umbrella to incorporate techniques from Japanese sword fighting as well as fencing – and make him look as smooth as possible.
"We used a little bit of (all martial arts) for the fight scenes because we must assume that a spy knows all kinds of ways to fight and defend themselves," Grispo said. "It's all going to reflect in the film."
Grispo and the production teams worked diligently to give audiences the action scenes they were expecting while balancing it out with reality, he said.
"The greatest satisfaction is when someone seeing the film says they were excited watching the fight scenes," he added.
Along with "Kingsman," Grispo recently finished up designing the fight moves for the anticipated "Batman vs Superman" and is now in Russia working in the pre-production phase of another film.
He said he never imagined as a child, when he first started learning martial arts, that his passion would lead him to Hollywood. And he said he plans to get even farther.
"Eventually I would like to work my way into become a second unit director in films," Grispo said.