Aretha Franklin's 'Respect' is a 'battle cry' for women: How she turned a cover into a national anthem
Aretha Franklin transformed Otis Redding's "Respect" into a rallying cry for women by making some strategic changes to the 1965 original's lyrics, including adding the iconic bridge: "R-E-S-P-E-C-T / Find out what it means to me."
Redding's version was male dominent, focusing on the role of women in a traditional 1960s household. In the song, Redding referred to women as "baby," "honey" and "little girl." The song, taking on the voice of a male, asks women to show respect toward their husbands after a hard day's work.
"Hey, little girl, you're so sweeter than honey / And I'm about to give you all my money / But all I'm askin', hey / Is a little respect when I get home / Hey hey hey, yeah now," Redding's lyrics read.
ARETHA FRANKLIN, 'QUEEN OF SOUL,' DEAD AT 76
Franklin twisted Redding's intended meaning to turn the focus on women — particularly those of color — and demanded respect from men. The funky, horn-led march included backup vocals from her own sisters, Carolyn and Erma.
"All I'm askin' / Is for a little respect when you get home (just a little bit) / Hey baby (just a little bit) when you get home / (Just a little bit) mister (just a little bit)," Franklin's version states.
The legendary "Queen of Soul" recorded the Grammy Award-winning hit for Atlantic Records in 1967. The song dropped on Valentine's Day and skyrocketed to the top of the charts just four months later.
"The call for respect went from a request to a demand," Jerry Wexler, who helped Franklin land her deal with Atlantic Records, reportedly said of Franklin's first No. 1 song. "[It] started off as a soul song and wound up as a kind of national anthem."
Franklin said she wanted to "embellish" the modest hit.
ARETHA FRANKLIN'S ICONIC MOMENTS, FROM 'RESPECT' TO THE ROCK AND ROLL HALL OF FAME
"When she walked into the studio, it was already worked out in her head," Wexler explained. "Otis came up to my office right before 'Respect' was released, and I played him the tape. He said, 'She done took my song.' He said it benignly and ruefully. He knew the identity of the song was slipping away from him to her."
In a 2004 interview with the St. Petersburg (Florida) Times, Franklin was asked whether she sensed in the '60s that she was helping change popular music.
"Somewhat, certainly with 'Respect,' that was a battle cry for freedom and many people of many ethnicities took pride in that word," she answered. "It was meaningful to all of us."
Franklin, who died of advanced pancreatic cancer in her Detroit home on Aug. 16 at age 76, will be remembered for her contributions to the civil rights movement, various awards and accomplishments and, of course, her hit songs — including classics such as "Think," ''I Say a Little Prayer" and "Chain of Fools."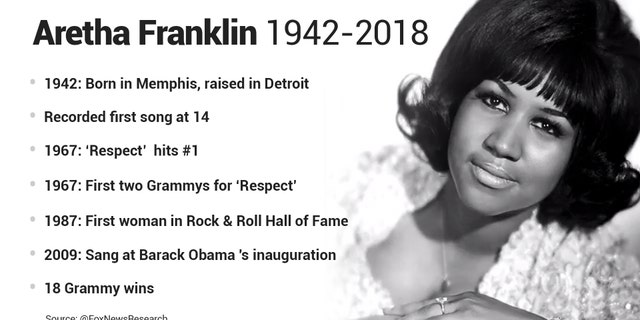 In Franklin's eyes, however, "Respect" may have been her greatest hit.
"Music is my thing, it's who I am. I'm in it for the long run," she told The Associated Press in 2008. "I'll be around, singing, 'What you want, baby I got it.' Having fun all the way."
The Associated Press contributed to this report.