Antonio Banderas has nothing but love for Melanie Griffith after divorce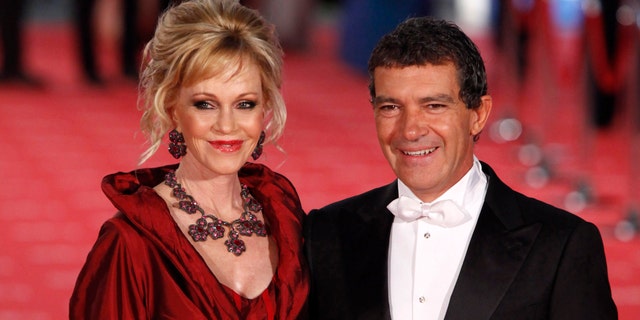 It's been a tumultuous few months for Antonio Banderas following his split with Melanie Griffith, but he says he feels nothing but love for his ex-wife.
"It's been an intense year. I had a lot of work and my private life was also so hard, but life goes on," he said, opening up for the first time on the couple's divorce on the Spanish TV show "El Hormiguero."
Banderas, 54, and Griffith, 57, announced they were splitting after 18 years of marriage last June.
"We have thoughtfully and consensually decided to finalize our almost 20 years of marriage in a loving and friendly manner honoring and respecting each other, our family and friends and the beautiful time we have spent together," the couple said in a statement at the time.
The Spanish actor, promoting his sci-fi flick "Automata" which also stars Griffith, could only gush about his co-star and ex-wife.
"I really admire Melanie as an actress," he said. "She is a person that I loved, love and I always will love, whatever our status is."
Since the split, Banderas has been dating Dutch investment consultant Nicole Kimpel.
He told The Olive Press last year that they were taking it slow and "getting to know each other."
"She is shy and doesn't have anything to do with my work, which is no bad thing."
Speaking about his new film, directed by Gabe Ibanez, Banderas told EFE that today's man "has no desire to leave a better world for the generations to come, and that may eventually lead to the destruction of the planet and our way of life."
Still, Banderas claimed to be "optimistic" because he is convinced that "there must be some form of awareness; and that people can find a way for life to be organized and managed better, a fairer way that makes more sense."
The Spaniard added: "While watching and reading the news, I contradict myself completely, because what we experience is the opposite, and all that the new technologies have done is accelerate time."
"We do not know if we can control the monster we have created," he said.
EFE contributed to this report.