Amy Schumer responds to backlash over her new film 'I Feel Pretty'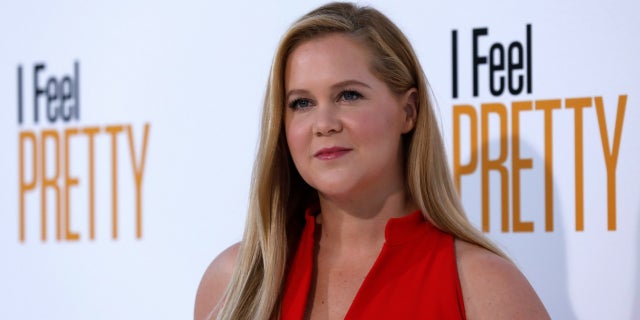 NEWYou can now listen to Fox News articles!
Comedian Amy Schumer responded to the criticism she received for her latest film "I Feel Pretty" after the movie's trailer spurned backlash.
Schumer, 36, told the Daily Beast she was aware of the backlash the film's trailer received after critics blasted the movie's message and accused it of focusing on today's beauty standards.
"I was surprised," Schumer said of the backlash. "But then I understood right away."
The movie is about Renee Bennett, played by Schumer, who works for a beauty company but has low self-esteem. The woman does not feel pretty or thin enough compared to the other women in her office.
Bennett's whole outlook on her life changes after she hits her head during an exercise class. The fall gives her a self-esteem boost and increases her confidence.
Following the trailer, critics accused the film of body-shaming women and setting "a standard of beauty so high that someone as conventionally attractive as Amy Schumer doesn't meet it."
'BEWITCHED' STAR PAUL LYNDE STRUGGLED WITH CHILDHOOD INSECURITIES, PAL CLAIMS
"People felt like this was supposed to be a movie where I play the really ugly girl and then I get pretty in the end or something," Schumer said. "But that's not what it is. It's just about somebody with really low self-esteem."
"It's a metaphor for how much you want to be able to communicate to the people you love that you think are gorgeous, that you wish they could see themselves the way you see them," the "Trainwreck" star explained. "People just kind of projected their own stuff onto it. That doesn't surprise me. I think people do that for everything. But I really hope that doesn't keep them from seeing the movie."
CARRIE UNDERWOOD 'SHAKEN' AFTER FALL, 'TERRIFIED' OF FANS SEEING HER SCARS, REPORT SAYS
Schumer said she thought the backlash was "clarifying" and believed there was a need for a film like "I Feel Pretty" now.
"I think the trailer really triggered people, which is part of the reason why I think there is such a need for this movie right now," she said. "And I hope that people do give it a chance. I know they'll feel good leaving it. I really believe that."
Despite Schumer believing the film's message is enough to bring viewers in, The Hollywood Reporter stated the movie is slated to open lower than her other two hit comedies "Snatched" and "Trainwreck." The movie is expected to take in $13 to $15 million during the opening compared to "Trainwreck" which received $30.1 million.
"I Feel Pretty" hits theaters on Friday.