Americans like 'redneck reality' more than shows about Richie Riches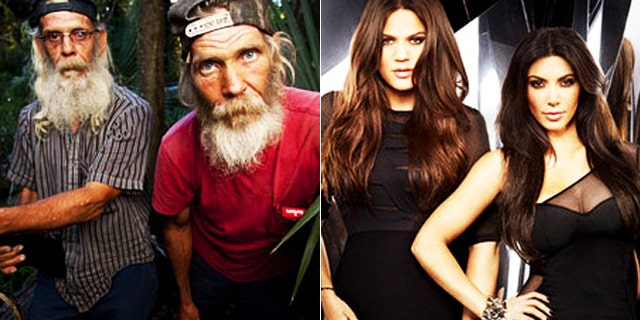 NEWYou can now listen to Fox News articles!
LOS ANGELES – The stars of the Kardashian and "Real Housewives" reality shows should be shaking in their stilettos, because Americans apparently prefer beer bellies over taut tummies, and pickup trucks over Porches.
A&E's "Duck Dynasty," starring men who catch squirrels with their bare hands and skin frogs in a split second, brought in a record-breaking 9.6 million viewers on its recent Season 3 finale, and averaged a whopping 8.4 million viewers for the season.
In comparison, the Season 8 premiere of "Keeping Up With the Kardashians" brought in 3.2 million viewers last week, while its Season 7 average hovered around 2.6 million pairs of peepers.
History Channel's "Swamp People," showcasing Cajuns living in the swamps of the Atchafalaya River Basin and hunting alligators, averages an impressive 4.5 million per show. Meanwhile, the much-hyped Ryan Seacrest creation "Shahs of Sunset," centered on uber-rich Iranian Americans living in Beverly Hills, has averaged 1.72 million viewers in its sophomore swing.
And when it comes to Bravo's "Real Housewives" franchise, which began with Orange County in 2006, followed by New York and Atlanta in 2008, New Jersey in 2009, DC and Beverly Hills in 2010 and Miami in 2011, the best ratings they've ever attracted was for a recent episode of "Atlanta," which attracted 3 million people, followed by a 2010 "New Jersey" episode which drew in 2.7 million, and then a "Beverly Hills" episode that brought in 2.1 million.
So what's going on here?
"Mid-America has long been underrepresented in not just reality, but all of TV. There is a whole viewing base of people in the so-called 'redneck' regions who are finally excited to see themselves represented," Alex Demyanenko, Senior Vice President of Development and Programming at leading reality production company Fremantle Media North America, told FOX411's Pop Tarts column. "Also, they have too long been the butt of jokes in mass media and for once we are laughing along with the lovable aspect and simple joys of country life."
And the "redneck reality" shows touted above are just the tip of the haystack. "Bayou Millionaires" chronicles a humble Louisiana family who strike it rich when they discover they're living on the fourth largest gas deposit in the United States. "Moonshiners" is a show about, well, moonshiners. "Redneck Island" gives its contestants a series of challenges. "Hillbilly Handfishin;" follows men skilled at catching catfish with their bare hands. "Lady Hoggers" is about women who wrestle pigs. "Rocket City Rednecks" combines science and country ingenuity in a series of backyard experiments. "My Big Redneck Wedding" documents down home holy matrimony. And most recently, Discovery recently introduced "Backyard Oil," which chronicles the "high stakes, comical roller coaster ride through the world of wildcat oil drilling."
"They are drilling for oil but they happen to be hilarious as well," said the show's executive producer, French Horwitz. "It hit a sweet spot for us within the redneck world as well. We've got the fat guy that has a big beard, we love those types of characters, especially guys who are great on-camera, like to have a great time, but also work super hard and have real stakes for what they do."
But that country caricatures are not without their critics. In December, Sen. Joe Manchin (D-W. Va.) called on MTV to pull its show "Buckwild" -- billed as the "Jersey Shore" of Appalachia -- for fear it would display "shameful behavior" that would subsequently exacerbate negative stereotypes about those from the state.
The show's glorification of dangerous behavior was then blamed by some for the death of its star Shain Gandee, who was found dead as a result of carbon monoxide poisoning following a four-wheeling expedition. Just days earlier, "Buckwild" co-star Salwa Amin was arrested for stockpiling oxycodone and heroin with the intent to distribute, while another show regular was arrested on suspicion of DUI.
Amid public outcry, MTV promptly suspended and later canceled the series.
But despite their critics, many say these shows have a positive effect as they highlight the fruits of hard work, discipline and family. The Robertson family on "Duck Dynasty" conclude each episode with a prayer of thanks around the table.
"Americans enjoy these shows for good reasons," said Dan Gainor, VP of Business & Culture at the Media Research Institute. "Hollywood wants us to laugh at rural people. They set these shows up to depict them as God-fearing, gun-loving idiots. But viewers see something different. They see the heart, the humanity and the humor. Not everyone lives in New York or Los Angeles."