'American Idol' recap: Amber Holcomb shines, judges get into a shouting match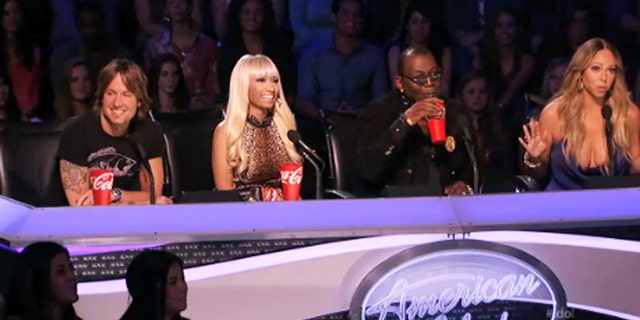 "American Idol" may owe Candice Glover an apology.
The judges' critique of Candice's second performance Wednesday was hijacked when a shouting match erupted between the panelists and Jimmy Iovine over Amber Holcomb — whom some are calling this season's pre-ordained winner. As Candice stood by awkwardly, waiting to hear the judges' thoughts on her performance, host Ryan Seacrest brought Iovine out from backstage to explain his comments that the judges "missed the point" of Amber's take on "MacArthur Park." Just prior to that, Nicki Minaj and Randy Jackson rushed through their critiques of Candice to take Jimmy to task and clarify why they had given Amber a standing ovation. Though Iovine eventually got Minaj to admit that it was actually Candice who had given the stronger performance, the whole thing culminated with Minaj and Jackson rushing the stage to confront Iovine head-on — with Minaj mock-strangling him before finally giving him a hug. Jackson tried to play the middleman, insisting that Candice and Amber "were both great. [Jimmy] hated the song." Mariah Carey called for the cut-to-commercial music, and Iovine speculated that Minaj had a crush on him.
Have the 'American Idol' judges already decided this year's winner?
What a mess. Hopefully the fracas won't have an impact on Candice come tomorrow. Now, for the rest of the performances!
Amber Holcomb
"The Power of Love" (Celine Dion): Amber borrowed a page from Kree's playbook and started this number a cappella, showcasing the full range of her vocals once the band kicked in — and proving that all those "young Whitney Houston" comparisons have some merit. While it wasn't the most exciting performance she's given all year, the technical aspects of the song, which Keith Urban called "tailor-made" for Amber, were nearly flawless. The Best Dressed award of the night also went to Amber, in sleek white pants and with a bangin' perm that was a nice departure from her typically straight style. (Nicki Minaj called her a "big, sexy glass of milk.) The staging was a little strange, as Amber stayed put at the top of a staircase throughout the song, but judging from her wobbly descent at the end, her shoes may have been to blame. And the judges' love of Amber continued, with Jackson saying she's the contestant who's shown the most growth throughout the competition.
"MacArthur Park" (Richard Harris/Donna Summer): Much like her performance of Carey's "Without You" last week, Amber sounded a little flat for the first part of this song (and on sporadic notes in the middle), but once she found her groove she seemed as comfortable as if she was singing into her hairbrush in her bedroom. And again, A+ for her styling, with a form-fitting orange dress, bright pink lipstick and that killer perm. "It's like the sun has come out," Urban told her. "You're dominating tonight." Minaj called her "Angie" by accident, but said that out of the four girls Amber would be the one she'd like to be friends with.
Report: 'Idol' planned to replace Mariah Carey with Jennifer Lopez
Candice Glover:
"Find Your Love" (Drake): Here's the bottom line: Candice is (probably) never going to deliver a bad vocal performance, but in this instance, she probably could have benefited from choosing a more widely known song. With the final four not able to afford even a single misstep in these late-in-the-game weeks, it would be nice to see Candice surprise everyone with an up-tempo number. Minaj and Jackson said as much, with Minaj saying she was going to start focusing on each contestant's future real-world appeal. "What I don't want to happen to you is for people to start seeing you as an old-fashioned artist," she said. Jackson cautioned that she should be wary of pigeonholing herself as a "church girl." Mariah Carey disagreed, telling Candice: "There were certain moments where you took me to a place I needed to be. ... Please don't veer from taking those musical chances."
"Emotion" (Samantha Sang/The Bee Gees): We reiterate our request for Candice to do something upbeat next week, but aside from the predictability of her version of this song, it's impossible to find fault with the performance. "I wasn't feeling like it was 50 years ago," Minaj commended her. Carey got Candice to admit that she was suffering from a "terrible cold," which Candice said she hadn't wanted to bring up for fear that it would seem like an excuse. But we'd like to echo Urban's endorsement: "Man, is there any one-hit wonder songs from at least the last decade?" (Also, did Carey secretly reveal that no one will be going home this week, with her comment that she had confidence Candice would be great next week with no disclaimer? Come out, come out, conspiracy theorists!)
Check out all the performances from this week's 'Idol'
"Hurt So Bad" (Susan Tedeschi): Kree delivered another gritty blues performance but, while her vocals were spot on, her movements seemed a little stiff. (Another pinched nerve, perhaps?) Both Jackson and Keith Urban noted that she seemed disconnected, with Urban telling her, "If you're going to do a song like that ... you've got to leave nothing on the table. You've got to pour your heart out. You can't just let your vocal do it." Minaj was a little more blunt, warning Kree that she wouldn't make it to next week based on that performance alone. "That is not a Top 4-worthy performance," Minaj said. "Everybody can blow smoke up your ass if they want to, but that was not it."
"A Whiter Shade of Pale" (Procol Harum): Kree made a solid effort to loosen up a bit during this one, and put a country spin on the classic song. Jackson called the performance "brilliant," and Carey said she was immediately going to download it on her phone. But Urban put the brakes on the praise train, saying Kree should shy away from "middle ground" songs and stick to either boot-stompers or delicate vulnerable numbers. But she might not get the chance to. Minaj predicted that Kree's efforts tonight wouldn't keep her from being in the bottom two tomorrow.
"Who You Are" (Jessie J): Angie covered her idol for the third time in the competition, again seated at the piano and using it to her benefit. The judges ate it up, with all except Carey (whose dress train was caught under her chair) giving her a standing ovation afterwards. Carey called the performance "stunning," while Jackson described it as "sheer perfection," though both begged Angie to perform another original song, as she did in the early rounds, before the end of the contest. Urban commended her for getting more comfortable and looser throughout the song.
"Cry Me a River" (Julie London): Angie's theater background elevated this performance. She delivered it with a defiant attitude, arching her back and spitting out the words while nailing every note. "Tonight was your night," Minaj told her, and Jackson said it was the best performance of the evening. Urban called the performance "mystical."
Duets
Amber and Kree — Adele's "Rumor Has It": The girls' vocals complemented each other nicely and, best of all? Finally some looseness from Kree! Those hips do shake! Still, it was Amber who looked more comfortable with the song. Urban demanded more from both of them, yelling "Cut loose!" And Minaj said that, at this point in the competition, it's time to start adding some personality to the vocals.
Angie and Candice — Rihanna's "Stay": Candice and Angie were apparently listening to the feedback the judges gave Amber and Kree, and had a good old-fashioned diva-off for this terrify performance, singing both at and with each other simultaneously. So much for that old-fashioned "church girl" label for Candice! And props to Angie for being able to hold her own vocally against this season's top belter, who actually sounded like she was straining for a brief moment (her first technical misstep in the entire competition). "Unbelievable! That's the way you do a duet," Jackson said. "You redeemed yourself on this, Candice. It was brilliant."