American Idol: JLO Goes Down Memory Lane With Jim Carrey's Daughter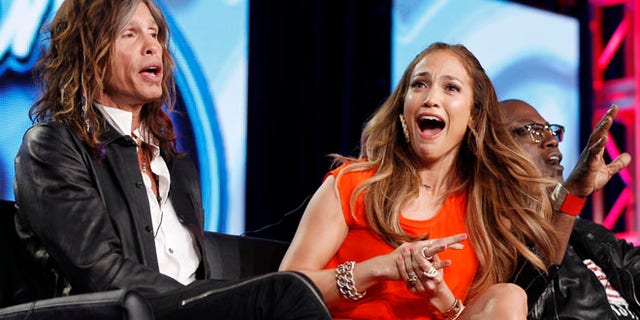 It was a wild ride down memory lane for Jennifer Lopez on American Idol Sunday night.
The "On the Floor" singer was pleasantly surprised to see Jim Carrey's daughter, Jane, audition.
This time around, auditions were held on an aircraft carrier --the U.S.S. Midway-- in San Diego, Calif.
"I used to work with Jim. Oh My God! I remember you when you were little!" Lopez said shocked.
"Do you remember me?"
Jane Carrey, told the Puerto Rican diva she barely recalled her. She was two-years-old when her father and Lopez worked together on "In Living Color." Carrey did skits while Lopez was one of the dancers known as the "Fly Girls."
American Idol Top 10 Latino Moments
"I'm here to make my place in the world," said Jane Carrey. "It is difficult growing up… trying to find your place in the world underneath this huge shadow," she said in reference to her father's fame.
"He is fairly normal," she added laughing. "Fairly."
Jane Carrey, 24, emphasized that being a celebrity's daughter can sometimes make things more difficult when trying to make it in Hollywood.
"The last name hurts, I think," said Jane Carrey. "There is this pressure to be better. Sometimes, that makes me worse because I'm too nervous to begin with."
The Idol hopeful stressed that she wants to do this in her own.
"If I make it somewhere I run the risk of people saying well you only got there because of this [your father.]"
American Idol's Pia Toscano's Sexy Style
Singing "Something to Talk About" by Bonnie Raitt, Carrey convinced the judges she's Hollywood worthy.
"She's Good," Lopez said. "I like the sound of your voice."
Music producer Randy Jackson agreed, but had some constructive criticism.
"I like you. I like the voice," said Jackson. "I like the potential.
JLO also added her two cents on becoming a star.
"I think you need to think more about performing," Lopez said. "You close your eyes a lot, which is great to get the feeling of it, but you still have to connect with your audience."
"You got to make us feel something when you are singing," said Lopez.
Rocker Steven Tyler wanted Carey to work on amplifying her voice.
"You got good melody, but you have to work on the volume," said Tyler.
Still, Carey managed to get a golden ticket for the next round, making her famous father extremely excited.
"She's so wonderful," Jim Carrey said overjoyed over the phone. "She's amazing. I can't wait for the world to understand what she has. "Oh my God! It's going to be an exciting year!"
You can reach Alexandra Gratereaux at: Alexandra.Gratereaux@foxnewslatino.com or via Twitter: @GalexLatino
Follow us on twitter.com/foxnewslatino
Like us at facebook.com/foxnewslatino