American Idol: Jeremy Rosado's 'Gravity' Sends JLO Into Space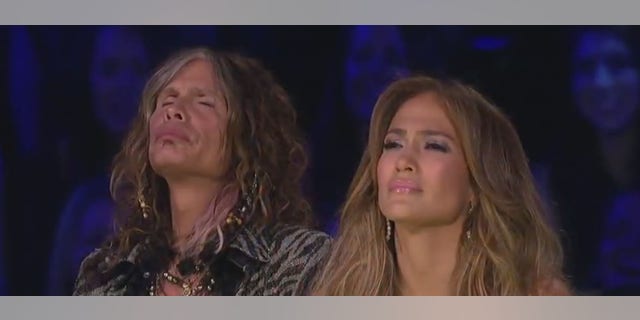 Jeremy Rosado made Jennifer Lopez and Steven Tyler's faces melt on American Idol's first Live Shows auditions Tuesday night.
Lopez and Tyler's face was then replayed on the Idol screen by American Idol host Ryan Seacrest as he congratulated Rosado for leaving the judges in awe.
Rosado, 19, performed "Gravity" by Sara Bareilles as shooting stars were falling in the background screen.
"I love this song so much," Rosado told Seacrest. "I got to show them what I got."
American Idol: For JLO Jeremy Rosado is Top 24 'Transcendental' Pick
The Florida native, who works at an infectious disease doctors office, had JLO at the brink of tears again.
American Idol: Jennifer Lopez Tears Up, Again; Reveals Surprise Twist

"Jer bear, some people are just blessed, from God," Lopez said moved with Rosado's singing abilities. "You open your mouth and immediately, I'm drawn in."
"You are one of those people," she added. "I forget that I'm on a show judging."
Fellow judges producer and musician Randy Jackson and rocker Steven Tyler couldn't agree more with JLO.
"That was beautiful," Tyler said. "You couldn't have picked a better song."
The Aerosmith lead man told Rosado his sweet personality will take him very far.
JR Martinez Wins 'Dancing With The Stars'
"You got such a big heart," Tyler continued. "Just for that you should win American Idol."
For Jackson, Rosado's voice won him over.
"I was so impressed with the tender moments and the big booming vocals," Jackson said.
Although Rosado left the judges breathless, he certainly has a lot of competition, as Lopez did not hold back to express her thoughts on her other favorite male singers.
Madonna's Super Bowl Halftime Show Extravaganza
For instance there is Deandre "lady killer" Brackensick, who had Lopez cheering him on during his entire performance.
"Your voice is so perfect," said Lopez.
"Deandre was with us last year and didn't make the top 24. I was praying you would come back and you did," Lopez explained.
"[This] will be such a good year for you!"
Jackson then told Brackensick his "commercial" look gave him even more of an edge.
"You're ready to go like now!" Jackson said.
Like Brackensick, Joshua Ledet had JLO going crazy over his powerful pipes.
Chico & Rita: Animation Film Taken To The Next Level
Singing Jennifer Hudson's "You Pull Me Through," Ledet won all the judges over.
"I just want to punch you! I Love It! You are so good!" Lopez said after being at a loss for words and with tears filling up her eyes.
"You really have a voice from God," she continued. "You can do whatever you want on that stage!"
And last but definitely not least there was gentle giant Jermaine Jones, who was brought back after being eliminated, and given a second chance.
"I was very grateful and excited," Jones said about learning the show wanted him back in the competition. "The neighbors probably heard me and my momma screaming."
JLO then took some time to give America some voting advice.
"Listen to who moves you," said Lopez. "That's how I would vote."
You can reach Alexandra Gratereaux at: Alexandra.Gratereaux@foxnewslatino.com or via Twitter: @GalexLatino
Follow us on twitter.com/foxnewslatino
Like us at facebook.com/foxnewslatino