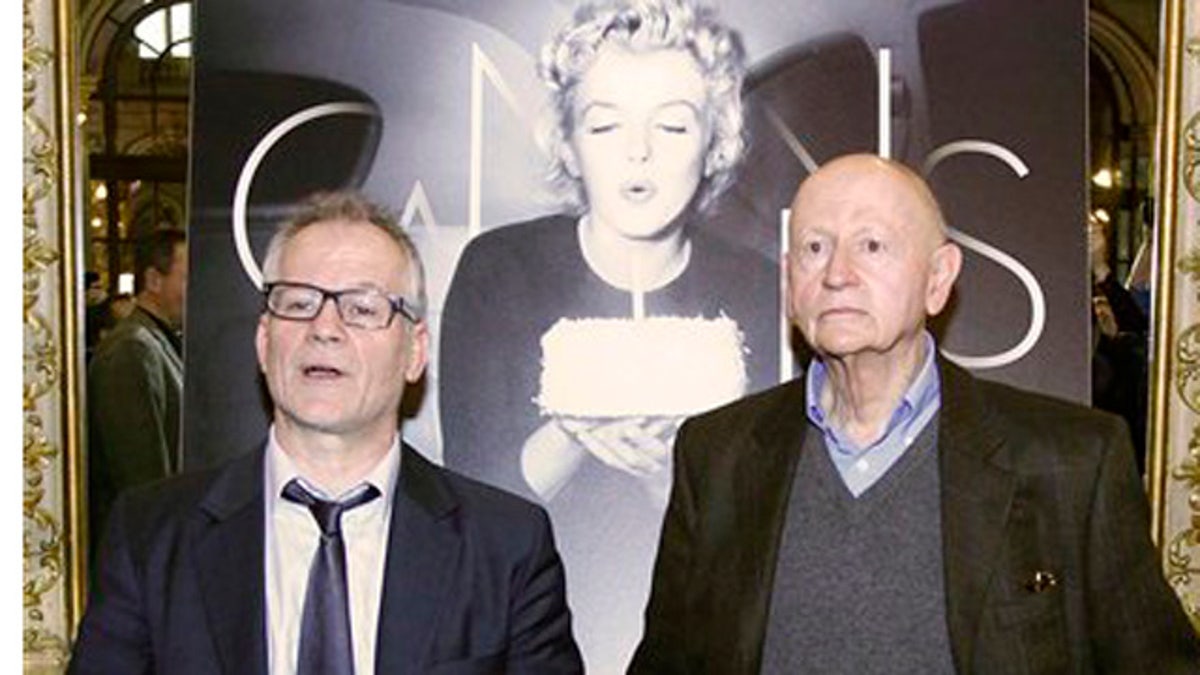 PARIS – American movies are taking center stage at the Cannes Film Festival, with a fistful of U.S. films and stars including Brad Pitt and Jessica Chastain in the 2012 line up announced Thursday.
Among some of the most anticipated titles of the year is an adaptation of Jack Kerouac's Beat classic "On the Road."
It's one of 20 films battling for the May 16-27 festival's coveted top prize, the Palme d'Or.
Announcing the slate at Paris' Intercontinental Hotel, Cannes artistic director Thierry Fremaux said, "American cinema is back in force."
A total of 54 features representing 26 countries -- from the U.S. to Syria, Iran and Brazil -- were chosen from a record-breaking 1,779 films submitted to organizers of the French Riviera festival. There's a possibility for a few late additions in the coming weeks.
Walter Salles' "On the Road," tells the story of the years Kerouac spent traveling the United States in the 1940s with his friend Neal Cassady and several other figures who would go on to fame in their own right. Staring Sam Riley and "Twilight'"s Kristen Stewart, it also features a performance from Kirsten Dunst, who won Cannes' best actress award last year for her role in "Melancholia."
Other U.S-slanted highlights include Andrew Dominik's "Killing Them Softly" starring Brad Pitt as a mob enforcer, and "The Paperboy," a drama with Zac Efron and Nicole Kidman by Lee Daniels, director of "Precious."
"Lawless," by John Hillcoat, director of "The Road," stars Chastain and Tom Hardy in a tale of Depression-era bootleggers.
For Canadian director David Cronenberg, whose film "Cosmopolis" is among those in competition, the festival will be something of a family affair. His son Brandon's debut feature, "Antiviral" is in the festival's secondary competition, Un Certain Regard.
Screenings are expected to be packed to see if Cronenberg junior has the cinematic skills of his veteran father, who came to fame with visceral films such as "Videodrome" and "Naked Lunch."
"Cosmopolis," based on the Don DeLillo novel, features Stewart's "Twilight" co-star Robert Pattison.
For the young at heart, the 3-D animation "Madagascar 3: Europe's Most Wanted" will also premiere at the festival, marking Cannes' continuing friendship with Hollywood's DreamWorks studios. The film features the vocal talents of Ben Stiller and Sacha Baron Cohen of "Borat" fame.
It is not the only 3-D offering included in the festival. For those with more nocturnal proclivities, Cannes will get out its garlic and wooden stakes for a midnight screening of Dario Argento's highly awaited "Dracula" in 3-D.
Several Cannes winners are back this year, including Austria's Michael Haneke, with "Amour," Britain's Ken Loach, with "The Angels' Share," and Romania's Cristian Mungiu, with "Beyond the Hills."
Joining them will be living legend Alain Resnais, who, at nearly 90, will present the aptly titled "Vous N'Avez Encore Rien Vu" or "You Haven't Seen Anything Yet." It's an adaptation of Jean Anouilh's "Eurydice" starring Cannes veteran Mathieu Amalric.
The festival will also feature a homage to Brazilian cinema, with screenings of films by directors such as Carlos Diegues and octogenarian legend Nelson Pereira dos Santos.
The out-of-competition lineup includes an offering from American cinema veteran Philip Kaufman called "Hemingway & Gellhorn."
Starring Nicole Kidman and Clive Owen, the film tells the story of one of American's most famous literary couples: writer Ernest Hemingway and Martha Gellhorn, his war correspondent wife of five years. Gellhorn, who reported from the Spanish Civil War, was Hemingway's inspiration for his novel on the same theme, "For Whom the Bell Tolls."
Italian filmmaker Nanni Moretti will chair the judging panel for the festival.