Allen Dikker's St. Patrick's Day potato feast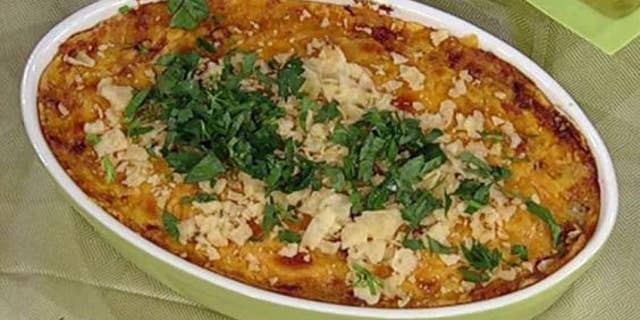 For the Mashed Potatoes
Ingredients
Red bliss potato (17-20 baby reds)
1-2 Tbl spoons of butter
1/2 tbl spoon of salt
1/2 cup of cream (could do more depending on how smooth you want it)
Method
1. Cut the red potatoes in quarters (I prefer skin on) and drop them into cold water to boil with a drizzle of salt for about 15-20 minutes. Until a fork easily pokes through
2. Start mashing with a masher or potato ricer.
3. Add the butter and heat the cream quickly, add salt and start stirring all together.
This could be done as early as a day before.
For the Corned Beef
Ingredients
1 large size brisket with spices
3 sticks of carrot
3 sticks of celery
1/2 of cabbage
2 whole onions
1 whole garlic bunch
1/4 cup of olive oil
3- 5 cups of water
salt pepper
Method
1. Cut the carrot, celery, and onion in bite size squares.
2. Add the olive oil in a dutch pot until heated, add the celery, carrots, onion and season with salt and pepper and stir well together to slightly wilted and browned.
3. Cut the bottom of the garlic bunch with the skin on and toss in the pot stir well.
4. Lay the brisket with spices on top of the vegetables and add the water.
5. Cover the pot bring to boil on high and once reached temperature lower to simmer for 2 1/2 hours
6. After 2 hours add cabbage
7. Once finished let sit for 5 - 10 minutes before cutting.
8. Cut into bite size cubes and mix together with the vegetables
For the casserole
Method
1. Set the oven to 375 degrees
2. Use a 12inch diameter dish pour in the corned beef mixture
3. Add the mashed potatoes on top and spread to cover the dish.
4. Put into oven for 15 - 20 minutes
5. Optional is to add sharp cheddar cheese on top and broil at the end to brown the top.
6. Once finished, optional, crush salt and vinegar potato chips on top with fresh cut parsley.
Dip into a spicy brown mustard or optional a cabbage salad mixed with in a spicy mustard vinaigrette dressing.
For the dressing for the cabbage salad
Ingredients
1 cup of Dijon mustard
2 table spoons of whole grain
1/2 cup of olive oil
2 tbl spoons of red wine vinegar
1 tbl spoon of dried dill
1 tbl spoon of granulated garlic
1/2 cup of honey
For the dip for the shepards pie
Ingredients
2 cups of whole grain
1/2 cup of spicy brown mustard
1 tbl spoon of cayenne pepper
1/4 cup of Worcestershire sauce
1/4 cup of olive oil
For the Colcannon
Ingredients
3 cups finely shredded green cabbage
1 onion, finely chopped or shallots
4-6 strips of cooked bacon
1/4 cup water
6 cooked potatoes (Preferably Yukon)
1/4 cup milk or cream
1/4 cup butter or margarine
Salt and freshly ground pepper to taste
Method
1. Place the bacon on a baking sheet and place in the oven at 375 degrees for about 8 minutes or until crispy, chop up and put aside.
2. Place cabbage, onion, and water in a saucepan or Dutch oven and quickly bring to a boil. Reduce heat, cover, and simmer about 8 minutes until tender. Do not overcook.
3. Add mashed potatoes, milk or cream, butter or margarine, bacon, salt, and pepper. Mix well, stirring often until heated through.
Serve it hot