All-star lineup performs at Prince tribute concert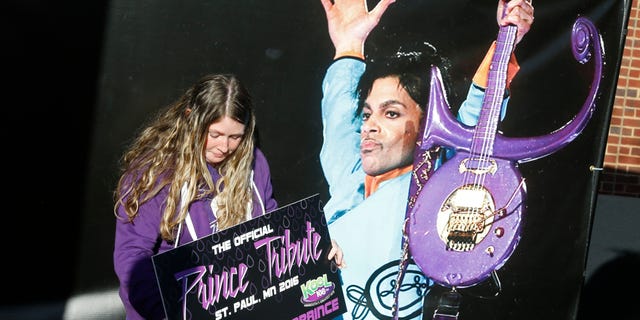 ST. PAUL, Minn. – Stevie Wonder and Chaka Khan had the crowd partying like it was 1999 all over again at a tribute concert to Prince Thursday night, a show fans and his family hoped would provide closure after his death nearly six months ago.
Khan brought Wonder onstage at Xcel Energy Center in St. Paul to duet on Prince's "I Feel for You," a 1984 hit for Khan. Wonder, wearing a suit and purple shirt, got the sold-out audience cheering with his signature harmonica riffs before the two performed Prince's hit "1999," with the crowd clapping and dancing along.
Just before show time, a concert publicist announced that singer Christina Aguilera canceled her scheduled appearance as she fights a "vocal illness." Singer Jessie J replaced Aguilera in the lineup.
A representative for Aguilera said she "has been advised by her doctors not to perform due to a vocal illness she has been trying to shake all week."
On the outdoor plaza before the concert, fans wearing purple shirts, scarves and the occasional raspberry beret milled about and some danced. St. Paul Mayor Chris Coleman read a proclamation declaring Thursday Prince Day in Minnesota's capital. Sharie Tonsager, 46, who grew up in suburban Rosemount, looked forward to hearing the music of Prince — a star she never got to see perform in person.
"He was just original. He never cared what the media said. He just did what he did and loved what he did," said Tonsager, who was sporting purple-tinted hair.
Prince's younger sister, Tyka Nelson, described the concert as a public memorial to Prince, who died in April at his Paisley Park recording complex.
"I want them to get some closure," Nelson said of Prince's fans. "It takes time to kind of get over it, and I see that they are grief-stricken." She said there "definitely" will be future concerts.
In an interview with The Associated Press, Khan said Prince's funky, syncopated music is a "brand that's going to live forever."
"There'll always be somebody that says, 'Ooh, that sounds real Prince-like, you know what I'm saying? His name will come up throughout millennia," Khan said.
Tori Kelly, Anita Baker and Doug E. Fresh also are included in the lineup. Prince's ex-wife, Mayte Garcia, has been added to the concert, and Prince will be represented by members of his inner circle, including Morris Day & The Time, Judith Hill and Liv Warfield.
The Prince family-sanctioned concert originally was planned for the Minnesota Vikings' new U.S. Bank Stadium in downtown Minneapolis, but was moved to the smaller Xcel Energy Center, home of the NHL's Minnesota Wild.
Prince's family initially announced the concert in late July, but details did not emerge until September. The wait frustrated Prince fans across the country who already had made travel plans without any guarantee of tickets. But organizer L. Londell McMillan, a longtime attorney for the late superstar, said it took time to put the details together because so many artists were involved.
Fans quickly snapped up tickets when they went on sale last month.
Prince died of an accidental painkiller overdose. The singer of hits including "Purple Rain," ''Let's Go Crazy" and "The Most Beautiful Girl in the World" was 57.