Alison Sweeney's healthy holiday alternatives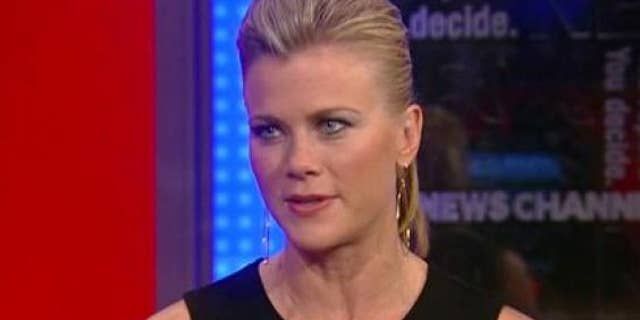 Cocoa and Coconut Dusted Almonds
Serves 8
Created by Seamus Mullen for the Almond Board of California
Ingredients
1 pound California almonds
2 tablespoons Coconut oil
1 tablespoon desiccated coconut, ground finely in a food processor
4 tablespoons unsweetened cocoa powder
4 tablespoons powdered sugar
1 teaspoon sea salt
Special equipment
Deep cast iron skillet, food processor
Preparation
Sift the powdered sugar, sea salt, desiccated coconut and cocoa powder together and set aside.
In a large skillet, heat the coconut oil over medium-high heat and quickly toast the almonds for two minutes, then remove to a plate lined with paper towel and allow to cool for 30 second. In a large mixing bowl, toss the almonds with the coconut/cocoa mixture and spread out on a large sheet pan to thoroughly cool. Serve right away or reserve for a snack.
For a simple, delicious and easy tart shell or even a basic cookie, grind up the Cocoa and Coconut dusted almonds into a flour and paddle together in a mixer with butter, sugar, an egg yolk and a little water then roll out between two pieces of wax paper and Presto! You've got an incredible, versatile tart crust. I like to fill my tart with a simple chocolate ganache, this always manages to impress! Take it to another level by making some homemade almond ice-cream if you're feeling ambitious.
Spicy, Smoky Almonds with Spanish Paprika, Coriander and Rosemary
Serves 8
Created by Seamus Mullen for the Almond Board of California
Ingredients
1 pound California almonds
2 tablespoons olive oil
1 tablespoon ground coriander
2 tablespoons smoked Spanish paprika
4 tablespoons fresh rosemary leaves, finely minced
1 tablespoon sea salt
Special equipment
Cookie tray, food processor
Preparation
Pre-heat oven to 400F. In a large mixing bowl, combine almonds with olive oil and rosemary and toast in the oven for 5-7 minutes, or until fragrant and deep in color. I like to shake the pan every minute or so to make sure the almonds are nice and evenly roasted. Once the almonds look nicely roasted, remove them to a large mixing bowl and season with sea salt and toss to coat evenly with the paprika and coriander. They can be eaten right away as a delicious snack, or you can package them up as a great gift. One of my favorite things about this recipe is its versatility, not only are these almonds tasty on their own, but if you coarsely grind them up, they make a terrific crust for a piece of fish or even chicken. To crust a piece of chicken, simply season the chicken (leg or breast) with sea salt and pepper, then drizzle with some olive oil and thoroughly coat with the ground almonds and it's ready to roast in the oven!
Almond Crusted Chevre and Grape Truffles
Servings 2 dozen
Created by the Almond Board of California
Ingredients
4 oz. chevre, crumbled
2 oz. cream cheese, softened
2 tablespoons port wine
Salt and pepper to taste
20 - 24 grapes
1/2 cup whole almonds, toasted and finely chopped
1/4 cup chives, finely chopped
Preparation
In a bowl, mix together chevre and cream cheese with a fork. Add port wine and a pinch of salt and pepper; mix until smooth. Chill 30 minutes.
Scoop 1 tablespoon cheese mixture. Press grape into mixture. Using plastic wrap, cover grape with cheese and roll into little ball with grape inside. Remove plastic wrap. Continue making rest of truffles.
Toast almonds stovetop in a dry fry pan until light brown in color. Lay out on large cutting board to cool. Using large knife, finely chop almonds. (Alternatively, for ground almonds, use a grinder or food processor.)
Spread almonds onto plate. Finely chop chives and combine with almonds. Roll each truffle ball in almonds and coat evenly.
Refrigerate, covered until serving.