Alex Rodriguez Had Three-Ways With Prostitutes, New Book Claims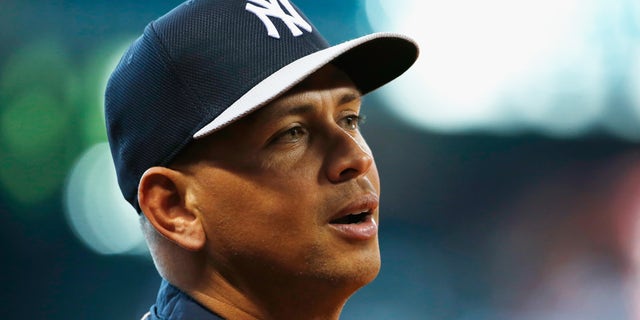 Alex Rodriguez's reputation continues to take a beating this year – and it looks like it's about to get a little worse.
According to a new report by Page Six, Michael Gross' upcoming book "House of Outrageous Fortune: Fifteen Central Park West, The World's Most Powerful Address" claims that the New York Yankees slugger, 38, enjoys the company of prostitutes, often hiring them two at a time.
A building worker in the pricey apartment building – Rodriguez was renting a $30,000-a-month apartment – told Gross that Rodriguez "got hookers all the time. Usually two at a time, two times a week."
One time, the worker reportedly said, "he had two go up, they came down and left, and 10 minutes later, Cameron Diaz walks in."
Diaz and Rodriguez dated between 2010 and 2011.
Another building worker told Gross: "He was a douche, an unfriendly narcissist. I hate the guy. He thought he was God."
A-Rod's spokesman, Ron Berkowitz, denies allegations that his client engaged in any three-way with hookers, calling them "categorically false."
He told Us Weekly, the book's author "cannot possibly have a single shred of evidence to back them up."
"Furthermore, they are defamatory – even of a public figure, as they include untrue allegations of criminal activity, as well as infidelity," Berkowitz continued to Us Weekly. "It's comical that we even have to waste our time responding to such stories, but not surprising, as certain people have an agenda against Alex."
The book comes out March 2014.
Follow us on twitter.com/foxnewslatino
Like us at facebook.com/foxnewslatino