Alejandro González Iñárritu says Sean Penn's green card quip a 'tough joke' among friends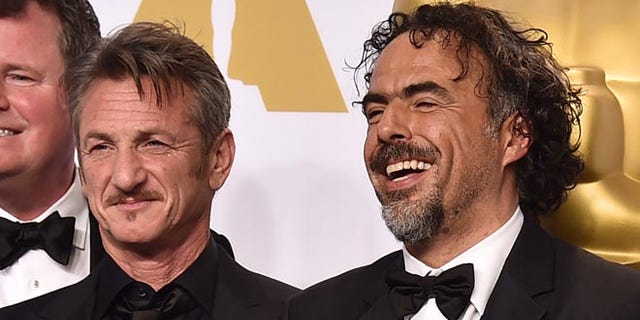 LOS ANGELES (AP) – Sean Penn's remark about Mexican-born Oscar-winner Alejandro González Iñárritu's immigration status at the end of Sunday's Academy Awards telecast struck many as an insult, but the director says it was nothing more than a brutal joke between old friends.
In announcing the win for "Birdman," Penn asked, "Who gave this son of a bitch his green card? 'Birdman.'"
The term "green card" refers to a document that confers permanent residency to immigrants in the United States.
"I found it hilarious," González Iñárritu said after the ceremony. "Sean and I have that kind of brutal (relationship) where only true friendship can survive."
González Iñárritu directed Penn in his 2003 film "21 Grams," and the pair remain friends. Penn posed for pictures with González Iñárritu after the ceremony.
The director, who won three Oscars on Sunday night, said he has told many similarly brutal jokes at Penn's expense. "I make on him a lot of very tough jokes that I will not tell you," González Iñárritu said.
Joke or not, the remark struck many online as problematic for an awards ceremony that had been criticized for not having more nominees of color.
González Iñárritu joked that after his three wins on Sunday night, the Academy of Motion Picture Arts and Sciences might institute a residency requirement. His win in the best directing category marks back-to-back wins for Mexican-born directors; last year Alfonso Cuarón won that honor for "Gravity."
"Maybe next year, the government will inflict some immigration rules (on) the academy. Two Mexicans in a row, that's suspicious, I guess."
It took some of the sting out of Penn's words, but González Iñárritu also used the opportunity of having some of the last words in the Oscar telecast to celebrate immigrants.
The director called on his fellow Mexicans to build a better government, and said those who have come to the United States should be afforded the respect that previous generations of immigrants have been given.
"I want to dedicate this award for my fellow Mexicans, the ones who live in Mexico," González Iñárritu said. "I pray that we can find and build the government that we deserve. And the ones that live in this country who are part of the latest generation of immigrants in this country, I just pray that they can be treated with the same dignity and the respect of the ones who came before and (built) this incredible immigrant nation."
Like us on Facebook
Follow us on Twitter & Instagram