Alan Thicke gets touching tribute as son Robin skips out on NHL100 Gala appearance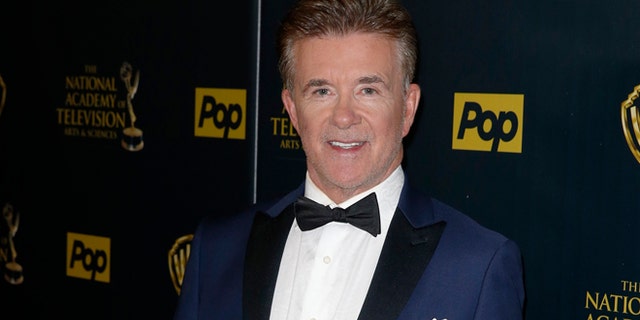 Alan Thicke received a touching tribute at the NHL100 Gala on Friday night, as the TV legend's son, Robin Thicke, was a no-show amid his contentious custody battle with ex-wife Paula Patton.
Wayne Gretzky instead took the stage at the event to deliver a heartfelt tribute to his "good friend," who "would have loved to have been here tonight."
RELATED: Robin Thicke Will Pay Tribute to Father Alan Thicke at NHL100 Gala
"My good friend Alan Thicke would have loved to have been here tonight, swapping stories, talking some trash, and genuinely mixing it up with so many great players that he admired. I'm extremely honored to be included on this amazing list. I only wish that every one of the players could have been here tonight," the NHL star said.
"So with the help of my friend John, let's take a moment to pay tribute to the players we've lost who have earned a place on the great 100 list," Gretzky concluded as Five for Fighting's John Ondrasik performed "100 Years." "Alan, this is for you."
WATCH: Robin Thicke Remembers Late Father Alan Thicke As 'The Greatest Man I Ever Met'
ET confirmed last week that Robin was set to honor his father -- who died after suffering a heart attack while playing hockey last month -- at the NHL's All-Star event at the Microsoft Theater in Los Angeles on Friday. However, the singer had been in the news lately for custody drama with his ex-wife, Paula Patton.
According to court documents obtained by ET, Robin lost temporary custody of his and Patton's 6-year-old son, Julian, and has been ordered to stay at least 100 yards away from his son, Patton, and her mother, Joyce Patton.
ET confirms that Robin will also no longer participate as an assistant coach at Saturday's 2017 NHL All-Star Celebrity Shootout competition, in which his half-brother, Carter, is slated to play. Carter was also expected to speak at Friday's NHL100 Gala, but instead attended the event with his girlfriend, where the two were seen sitting front row.
Robin's rep declined to comment. ET has reached out to the NHL for comment.
WATCH: Robin Thicke Cleared of 'Wrongdoing' in Child Abuse Accusations, Source Says