Al Franken mocked by late-night hosts for sexual misconduct allegations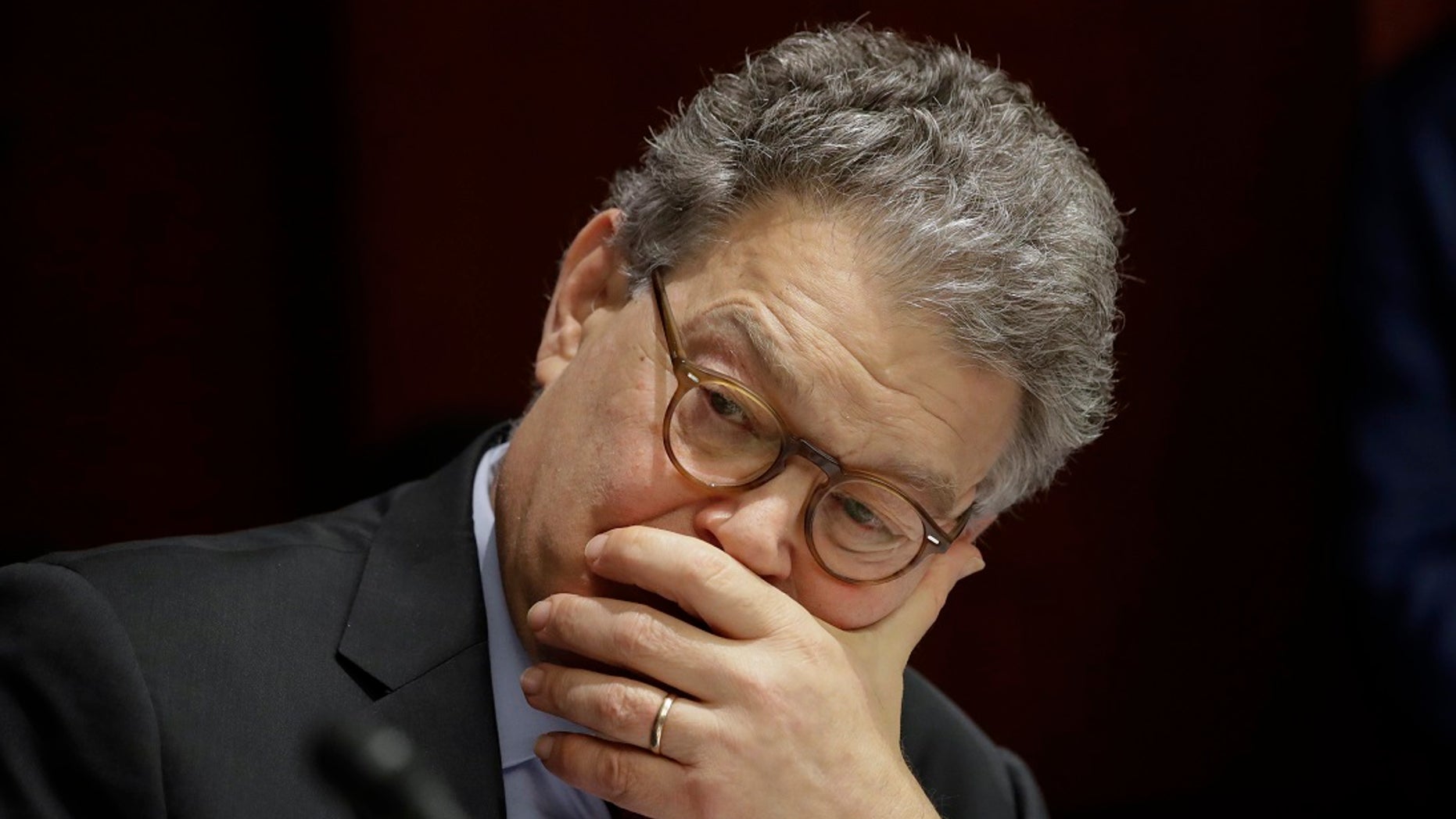 Late-night talk show hosts used their platform to condemn Sen. Al Franken, D-Minn., for the sexual misconduct claims made against him Thursday by a Los Angeles TV and radio host.
Leeann Tweeden accused Franken of kissing and groping her during a USO tour in 2006. Before he was a senator, Franken made his career in comedy and was a former writer for "Saturday Night Live."
Seth Meyers, a fellow "Saturday Night Live" alum, cringed at the photo that emerged of Franken grinning over Tweeden.
SARAH SILVERMAN BREAKS SILENCE ON LOUIS C.K.'S SEXUAL HARASSMENT SCANDAL
"That is horrifying," Meyers said. "She's wearing Army gear because it's a USO tour, but honestly, who could blame women if they started wearing military gear whenever they're around men? 'Where are you going in a helmet and a flak jacket?' 'The subway.'"
Meyers said the allegations should be taken seriously regardless of Franken's political affiliation.
And on "The Daily Show," Trevor Noah took a serious approach to the allegations and said it was "another example of how, at all levels, we men have been complicit in perpetuating the culture that devalues women."
"I don't care who you are: Democrat, Republican, black, white, rich, poor," Noah continued.
"Because you forget it's not just Al Franken in the picture," the "Daily Show" host said. "It's the guy who's taking the picture... Who's that guy?"
Stephen Colbert, meanwhile, said it seemed like every day recently we "find out about another high-profile sexual harasser."
'TRANSPARENT' CO-STAR ALLEGES IMPROPRIETY BY JEFFREY TAMBOR, WANTS AMAZON TO 'REMOVE THE PROBLEM'
"I guess there are no good people left, so let's just get it over with," Colbert said. "Just tell us whatever you did, Jimmy Carter! Barack Obama! Tom Hanks! Malala!"
Colbert explained to the audience the claims made against Franken and joked they were techniques used by actors called "sexual harassment." Colbert then criticized Franken for saying the photo was meant to be funny.
"No. Your movie 'Stuart Saves His Family' was intended to be funny but wasn't," Colbert said. "That photo was intended to embarrass her. That's why he did it while she was asleep."
"The Tonight Show" host Jimmy Fallon joked Franken was "already a front-runner for president in 2020." Fallon was referring to the sexual misconduct allegations made against President Trump.
Jimmy Kimmel called Tweeden's vest she wore in the photo a "grope-proof vest."
Following the backlash, Franken has apologized to Tweeden and called for an ethics investigation.