'AGT' contestant Timothy Poe getting the boot, source says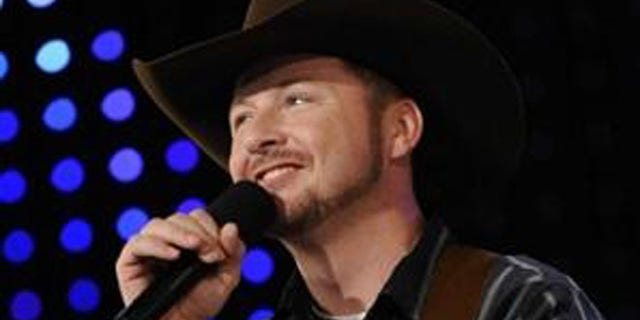 Timothy Poe won the hearts of viewers this week on NBC's "America's Got Talent," not only for his smooth country crooning, but for his emotional story of being injured by a grenade while serving in Afghanistan, which he said caused him to start stuttering.
Since then, Poe's story has been challenged big time. And now it looks like he's getting the heave ho.
"I have been told by very reliable source that Mr. Poe gets eliminated anyway, and very soon, and that is possibly why the NBC hasn't pushed the subject," Anthony Anderson, Jr., manager of the Facebook community Stolen Valor, tells FOX411.com's Pop Tarts column.
Anderson has been working with several other service-related websites this week, and was one of the first to highlight inaccuracies in Poe's heroic back story.
[pullquote]
"We created Stolen Valor to out people who falsely claim military service and/or claim unauthorized medals," he told us. "We have found out that (Poe) only served one month in Afghanistan, and left due to an ear infection. He has also said that he never sang before, but we were contacted by an ex-band member who said they performed together for six years."
Anderson said he has been contacted by several others who knew Poe and shook their heads at his touching story, including an ex-wife who has suggested that even his stutter is a "put on."
Poe vigorously defended himself and threatened to sue his ex for "telling the media he was lying."
But Lt. Col Kevin Olson, rep for the Minnesota National Guard, also released a statement refuting many of Poe's claims.
"After researching documents Mr. Poe provided media, he appears to lack the required justification to conclusively prove his injuries are combat related," Olson stated. "Sgt. Poe's military records do not indicate that he was injured by a grenade in combat while serving in Afghanistan in 2009, as he reports. The Minnesota National Guard can also confirm that he was not awarded the Purple Heart Medal for wounds sustained in combat. There is no Minnesota National Guard official record that indicates Mr. Poe sustained combat injuries in Iraq, as he reported."
On Tuesday Poe confessed on a military podcast that he didn't receive the military medals that he previously claimed, admitting that it was simply "something stupid" he recently said. But perhaps the straw that broke the camel's back came on Thursday when it was revealed that the picture he said supplied for the show, purporting to be himself in combat, was actually that of Staff Sgt. Norman Bone.
According to TMZ, Bone is livid about the misuse of his photograph, and is consulting the Army legal department to explore his options. Poe has since admitted to the misidentified photograph, apologized, and blamed the show's producers for pressuring him to produce photographs quickly.
"I must have sent the wrong picture from my hard drive to 'AGT.' (Show producers) kept pushing me and pushing me saying 'You need to put these out. You need to put these out,'" he said. "Well I had deleted a lot of the photographs because I wanted nothing to remind me of things that had happened to the past."
The show's production company, Fremantle Media, issued an apology on Thursday for using the incorrect photograph during the audition episode. Judge Howard Stern tweeted that he was waiting to get the facts, but was "truly disgusted."
So how did the veteran manage to make it on-air with a story seemingly riddled with wrong information?
According to the Associated Press, there was no background check, and a casting insider told us that such a practice is not unusual for servicemen and women.
"Reality shows generally run level one background checks, but different production companies and networks have different guidelines," the source explained. "A lot of the time military checks can take a lot longer and can contain closed information."
NBC did not respond to a request for further comment.