Advertisers, Italian Americans Angered by Unaired 'Jersey Shore' Homophobic Rant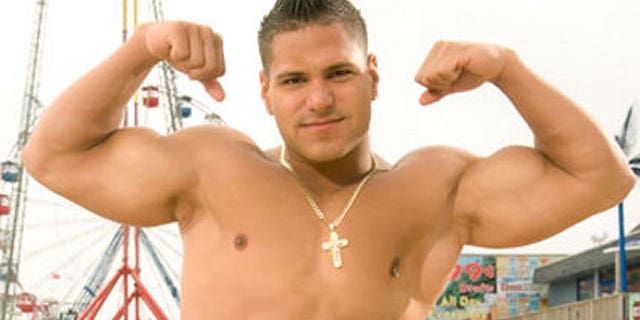 LOS ANGELES – Critics of MTV's controversial hit reality series "The Jersey Shore" are slamming cast member Ronnie Magro for a recently leaked homophobic rant that never made it to air.
The clip shows Magro in an altercation with an unidentified man who he refers to as a "f***ing faggot" and "f***ing queer." According to TMZ, the footage was filmed just prior to his first brawl with a fellow bar patron on the show and ended up on MTV's cutting room floor when it came to putting the hit reality show together.
And at least one of the show's advertisers, BeenVerified.com, is less-than-impressed with Magro's behavior.
"Ronnie's words are in no way acceptable. BeenVerified strongly believes that homophobic language or hateful language of any kind is never acceptable," said a company rep. "[But] in this case, our advertisement serves as a public service announcement -- Hey everyone, this is reality and you should know that you can run an instant background check on anyone, even right from your iPhone."
However fellow "Jersey Shore" star Jenni "JWoww" Farley assured us that Ronnie really isn't homophobic.
SLIDESHOW: The Cast of the 'Jersey Shore'
"Ronnie is probably one of my closest friends in the cast and I can vouch for him that he's not like that at all," JWoww said. "My best friend is gay and I know that they've been in the same area as each other and Ronnie's the same Ronnie. He's not sexist, racist, homophobic – nothing like that."
Meanwhile it seems some Italian-Americans are ashamed of the show's "negative stereotyping," despite JWOWW's recent confessions that some cast members are not Italian.
"[Ronnie's tirade] is not a surprise! How can anyone be surprised at anything any of these bimbos and buffoons would say or do," a spokesperson for UNICO, the largest Italian American Service Organization in the U.S., told us. "They have become celebrities for their reprehensible behavior and negative stereotyping, so this is no exception. It is unacceptable, as are the rest of their actions and behavior."
And, understandably, the gay community isn't happy either – although they were pleased MTV chose not to air the controversial footage.
"Thankfully Ronnie's deplorable anti-gay slurs never made it to air on MTV," said Matthew Breen, executive editor of national gay and lesbian newsmagazine The Advocate. "MTV's audience is young and impressionable, and MTV has a duty not to conflate hate speech with aspirational elements of reality TV. Because MTV cut out Ronnie's hate speech, he has less opportunity to affect harm to young gay people by viewers who may choose to emulate him."
Cathy Renna, a former GLAAD spokesperson and managing partner at Renna Communications, a firm that works exclusively on gay and lesbian issues, doesn't believe the show is "disappointing" all around.
"My guess is that someone saw this footage and said this is horrifying, we don't want this on our airwaves," she said. "'Jersey Shore' is one of the worst examples of an artificial environment where there is conflict, there is drama, there is sleaziness … I don't know who benefits but the folks who make money off of these shows."
But could this leaked footage negatively impact the next season of the hit MTV reality show?
"No, I think it is why people watch the show, everyone loves a good train wreck," said Associated Press pop culture expert, Natalie Rotman. "MTV's choice to not run the footage -- like that of Snooki being punched in the face -- showed the network chose the high road instead of making a cheap stab at high ratings."
MTV and a rep for Magro did not respond for comment.
Marissa Lyman contributed to this report.