Adele: I wasn't yelling at Chris Brown at Grammys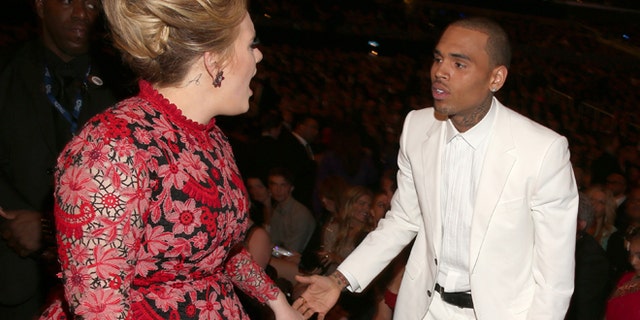 Lots of people seem to have a problem with Chris Brown, but apparently Adele isn't one of them.

The "Rolling in the Deep" singer took to Twitter to dispel rumors that she was yelling at Brown during the Grammys, following his refusal to stand when Frank Ocean won an award.
PHOTOS: Weird and wacky Grammys styles

A photo taken Sunday night during the ceremony shows Adele standing in front of Brown as he looks at her with his hands out in front of him.

But Adele said there's more to the picture than meets the eye.

"Chris Brown and I were complimenting each other in that photo actually!" she tweeted on Tuesday.

Reports speculated Adele was giving Brown a piece of her mind after Frank Ocean's win. Ocean and Brown recently brawled outside a recording studio, and there is reportedly a lot of tension between the singers.

Another photo from the evening showed Adele and Brown posing happily for a picture together.