Academy Award: Alfonso Cuaron And Emmanuel Lubezki Gush Dominates With 10 Nominations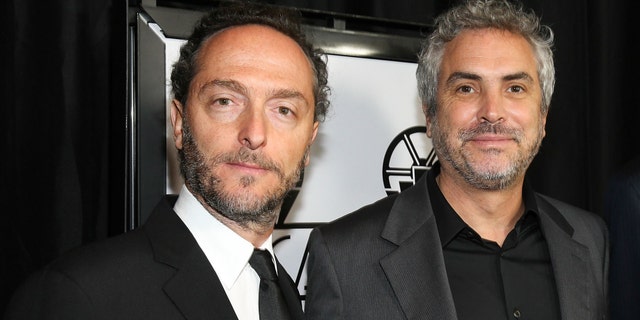 Alfonso Cuarón must be on cloud nine. Fresh off his Golden Globe win for best director, the Mexican filmmaker's space thriller "Gravity" received 10 Academy Award nominations Thursday – tying the film with "American Hustle."
"Thank you Academy for this incredible recognition," the 52-year-old director said in a statement. "These nominations are not just about single achievements, but rather the collective effort of hundreds of dedicated artists who made this dream a reality."
He further gushed:
"On behalf of everyone involved with 'Gravity' I want to express our deepest gratitude to the industry, the exhibitors and the public for embracing this film so passionately," Cuarón continued. "A special thank you to our friends and collaborators at Warner Bros, for staying on board this journey for more than four years."
The 3-D space odyssey was nominated for best picture, best director, cinematography, film editing, original score, production design, sound editing, sound mixing and visual effects.
The film's leading lady, Sandra Bullock, was nominated for her second Academy Award, for best actress.
"I am particularly moved by Sandy's nomination," said Cuarón of Bullock's nomination. "She is the heartbeat of our film. She immersed herself in the part. And I thank her for her grace, her trust and her dedication to finding the truth of this character."
Bullock, who won the Oscar in 2010 for "The Blind Side," said in a statement: "It's not just the feeling of what's happening now, it's also what the last two years have been like with the amazing experience of Gravity. All we cared about was that Alfonso got recognized because this is his story, his journey, his life story."
The other best actress nominees are Amy Adams ("American Hustle"), Cate Blanchett ("Blue Jasmine"), Judi Dench ("Philomena") and Meryl Streep ("August: Osage County").
The film's cinematographer, Emmanuel Lubezki, gained his sixth Oscar nomination – the most for any Mexican filmmaker.
"Getting nominated for this is incredible because a lot of my collaborators got nominated and the director is a close friend – and he completely deserves this nomination," Lubezki said in a statement. "This movie was a combo of classic cinematography and virtual cinematography, and it was really cool and completely different from anything I've done before."
Lubezki was previously nominated for "A Little Princess," "Sleepy Hollow," "The New World," "Children of Men," and "The Tree of Life."
Soon after Academy Award nominations were announced, Mexico's President Enrique Peña Nieto took to Twitter to offer his congratulations.
"Congratulations to the Mexicans who have been nominated for the 2014 Oscar Awards: Cuarón, Lubezki and Lupita Nyong'o. The greatest success," he wrote in Spanish.
Nyong'o, who was born in Mexico to Kenyan parents and was raised in Kenya, was nominated for best supporting actress for her role in the historical epic "12 Years a Slave" which was also nominated for best picture.
Follow us on twitter.com/foxnewslatino
Like us at facebook.com/foxnewslatino