AC/DC's Brian Johnson pens memoir about his love for cars, shares secrets about touring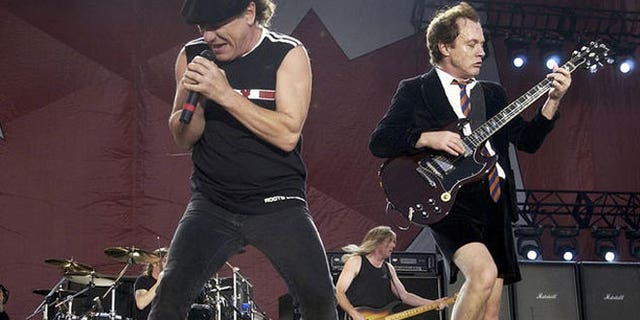 Brian Johnson lead singer of the legendary rock and roll band AC/DC not only has one of greatest growls in music, but is also a hilarious author. The 65-year-old' memoir, 'Rockers and Rollers' has just been released in paperback and it's a lively story that has nothing to do with "Hell's Bells" and concentrates instead on his first love -- cars.
Fox411: How did this book come about?
Brian Johnson: I was doing the "Black Ice" album. The singer usually has to wait a long time, he's got lots of boring moments and a mate said, 'Brian you should write down the stories you have about your cars,' so I wrote a couple of chapters down during the boring bits and I wrote it in longhand, obviously because I'm a lousy typist and I scanned them and sent them back to me mate in London and he took it to a publisher and it got signed up and I'm still quite amazed by it all!
Fox411: When did your love affair with cars start?
BJ: When I was a kid. I grew up in a small mining village in the Northeast of England. There wasn't many cars at all, there wasn't much of anything. Every time I saw one I used to salivate, it wasn't normal. They used to say to my mother, 'There's something wrong with that boy of yours.' I used to watch the Formula One race drivers on television, they were like heroes and knights in shining armor, you know what I mean? I thought they were wonderful and I just got all wrapped up in it.
Fox411: What's your favorite car?
BJ: My Rolls Royce Phantom. I know you're supposed to have a chauffeur for a Rolls Royce but the trouble is the fun of it is driving it yourself. It's a wonderful feeling.
Fox411: Why is an E-Type like a penis extension?
BJ: Because it's so big and long at the front and that's why guys go after them. Again that's just the world according to Brian.
Fox411: Did you lose your virginity in a car?
BJ: No, I'd already done that around the back of a church hall after a youth club dance and I'll never forget the name of the band, The Brown Suits. They all wore brown suits and I thought, 'I think I can do better than that.' They were a skittle band.
When you got a motor car it meant you didn't have to lean up against somebody's privet hedge or disappear around corners. You had your own car and you were master of all you surveyed. I think every man in the world who's got a car and takes a girl out, the first thing they do is put their arm around them and all that other nonsense. I think it's universal.
Fox411: How on earth do you have a voice after all these years?
BJ: I don't know. People ask me how I prepare for a show which I don't at all. I just go into the bathroom, make a big loud noise and then come back into the boys and say, 'Well that's me ready.' I try to give as much passion up there and as long as I can keep in tune for the band I'm happy. It's just a very singular band with very singular members.
Fox411: And how do you have any hearing left after standing under those canons during 'For Those About to Rock We Salute You?'
BJ: I could write another book about standing under the canons for 40 years. These horrible sparks come out of them. At the end of the show I have burn marks all over my shoulders.
Fox411: Have there ever been any mishaps with the giant bell?
BJ: A couple of times it's been raining and I've had to run to get up to the rope and there's been a couple of dodgy times when I've slipped just before I've launched myself, other than that I've been fine.
Fox411: Any band that has opened for you that you knew was destined for big things?
BJ: I think Def Leppard. That was right at the start when I just joined them on my first American tour. They were just young lads but boy oh boy, were they good. You could tell there was something special about them.
Fox411: Where would you rate AC/DC on the list of greatest rock and roll bands?
BJ: I wouldn't like to say. It's not my place. We definitely have a shot at being up there somewhere but I wouldn't like to put myself in that position.
Fox411: When's the next AC/C tour?
BJ: We're going to London in about three weeks; we're just going to have a sit down like we usually do. I wouldn't like to do another like the last one. The last one was two years. It broke your body in half. The thing with our band is we never want to go on stage and have people looking at us and saying, 'Oh you should have seen them ten years ago.' So we're going to take it as it come and see what happens. I doubt we'll be doing a big one. If we could do some festivals, I wouldn't mind that all. That would be lovely.