ABC's 'black-ish' tackles Trump in emotional post-election episode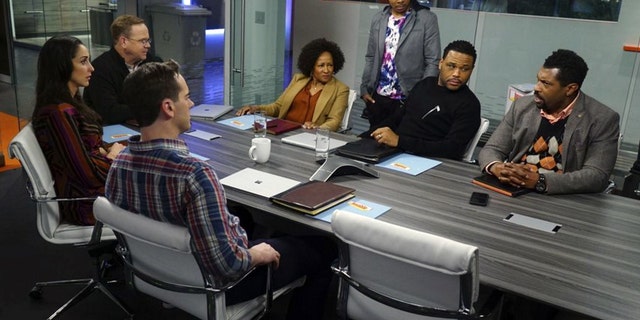 ABC's "black-ish" tackled the results of the presidential election in their mid-season premiere Wednesday night.
The most-heated part of the episode, titled "Lemons," takes place during a conversation set at Anthony Anderson's character Andre's advertising agency.
Lucy, played by Catherine Reitman, who is white, reveals she voted for Trump and chaos breaks loose.
"Can someone explain how 53 percent of white women voted for the orange p---y grabber?" Wanda Sykes' character Daphne asks. "Lucy, I mean, as a resident white woman, if there was ever a cue for you to talk, it would be now."
She adds, "Fine, as long as she knows that a vote for Trump is a vote for racism."
Lucy fires back, "You guys just said that you would've voted for anyone who was black, but what if instead of Obama, it was Clarence Thomas or Herman Cain or Ben Carson?"
They respond with a resounding no and Anderson's character Andre poses, "Is Ben Carson even black?"
The conversation turns back to Trump and Lucy explains that despite not thinking "Trump is a great guy," she couldn't support Hillary Clinton.
"No, he is the devil, and I should know," Peter Mackenzie's character Mr. Stevens adds.
Mr. Stevens' son Connor chimes in, "I mean, I know we don't like to think of it that way, but America is a corporation, OK? It's the world's biggest and most important corporation. So is it so crazy to think that maybe a businessman, who runs big corporations, might not be such a bad idea?"
Daphne responds, "He runs them into the ground. That idiot goes bankrupt like Khloé Kardashian changes black dudes."
The episode concludes on a more positive note with Anderson's character noting, "Over 50 million people [voted for Trump and] felt something... and I don't think it's possible that ...all of them were nuts, or racist, or hated women," he said. "It's time that we stop calling each other names."