A Tribute to the Rise and Fall of La Lupe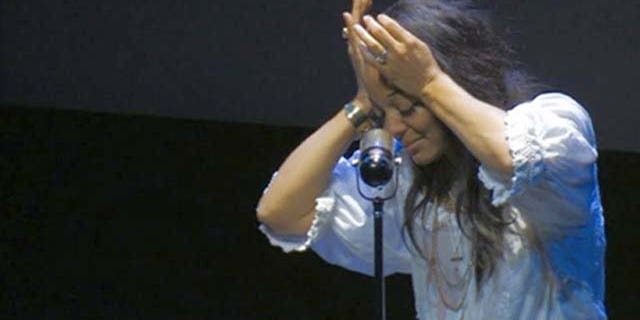 Many years ago, Lauren Vélez began her quest to create a film about the life of Cuban singer, La Lupe. Now the star of Showtime's hit drama "Dexter" is moving full steam ahead with what she calls her passion project – one that focuses on the rise and fall of the woman and the artist.
From the time she was a child, Vélez was enamored with Lupe's intense vocals. About 10 years ago she spoke with writer Luis Caballero about collaborating on Lupe's biopic.
Four years later, he gave Vélez the first draft of a play, casting her as the lead. Though the film was not ready, the wheels slowly began to turn. Shortly thereafter, Caballero partnered with Emmy award winning writer, James Manos, Jr. (of The Sopranos fame) and continued to expand the idea of a play.
Over the years attempting to tell La Lupe's story has not been easy. The production was not without its competitors, and it endured a fair share of financial challenges.
"For a short while there was a sort of La Lupe movement going on. There was a documentary on PBS and another play at the Puerto Rican Traveling Theater; it was very exciting," commented Vélez. "At that time we were developing our film project but we felt that the best way for people to get to know this incredible woman was to really work on our play."
With that goal in mind, Vélez, Caballero and Manos Jr. continued to work on the project until it was finally ready for the stage. After appearing in other cities like Miami, the show entitled "They Call Me La Lupe" is finally set to open at the Teatro LATEA, a cultural institution on the Lower East Side of Manhattan, known for sponsoring Latino Arts.
"It is a wonderful story to tell about an amazing woman, a dynamic force of nature. This woman is a legend and an icon in Latin music," said Vélez.
Guadalupe Victoria Yoli was born in the rural town of San Pedrito, Santiago de Cuba, in 1936. A virtual fireball of passion and song, it did not take Lupe (also known as La YiYiYi) longed to find her place on stage.
Though her family forced her to become a certified schoolteacher, Lupe could not resist the urge to be a performer. Before long she was singing in local nightclubs with a band called Los Tropicuba and growing in popularity.
Her unique delivery and intense stage command made her a natural star. At her height in Cuba, La Lupe had her own nightclub until Castro decided she (like many other performers of that time) was a bad influence on the Cuban people. She subsequently lost her gains and chose to flee the Communist regime in 1962.
After arriving in New York City, La Lupe began singing with Latin music heavyweights Mongo Santamaría and the very famous Tito Puente. Together Lupe and Puente helped bring the rhythms of the Mambo and Guanguancó to New York City's nightlife.
The union between the two artists lead to the recording of several Latin music classics, including her hit "Que Te Pedi." Her popularity soared, but rumors swirled that her command of the stage was a point of contention between the two.
Unfortunately, whatever the actual reason for the breakup, their partnership was short lived and after only a few years Tito Puente and La Lupe parted ways.
Her subsequent solo career was marked with many hardships. She was constantly fighting rumors of drug abuse, marital problems and serious financial woes. In addition, she was increasingly in the shadow of another Cuban superstar, Celia Cruz, and by the late 1960s, there was not much room for more than one woman in the Salsa music scene.
La Lupe's health and circumstance continued to decline as time went on, though she performed almost until her death in 1992.
Vélez has her work cut out for her. La Lupe's underdog appeal and eccentric performance style made her stand apart. She seemed to battle through her performances -- virtually fighting the lyrics with her voice and singing with more emotion than many.
"Luckily I have a background in singing," said Vélez. "But this is more than singing -- she had this wonderful phrase that she carried her revenge in her throat. It is a lot of work, [and] it was physically exhausting," said Vélez.
"It is incredible to play someone who is that free," she added. "She doesn't care -- she is her own revolution!"
"They Call Me La Lupe" premieres January 4th at Teatro LATEA, for more information go to www.smarttix.com.
Follow us on twitter.com/foxnewslatino
Like us at facebook.com/foxnewslatino