90-year-old burlesque dancer gets golden buzzer on 'America's Got Talent'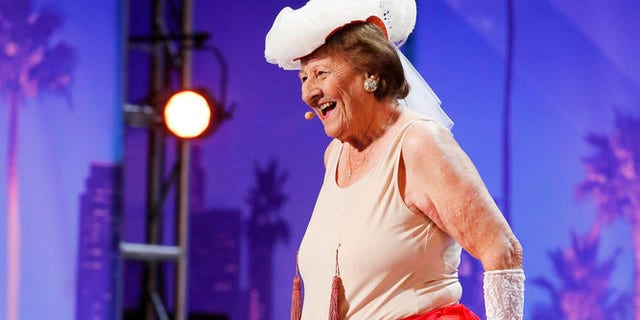 NEWYou can now listen to Fox News articles!
A 90 year-old burlesque dancer from Hawaii, earned a surprise fifth golden buzzer on the final night of auditions for "America's Got Talent."
Dorothy Williams was passed straight through to the live performance shows by host Nick Cannon.
'I don't care - I'm gonna break the rules!" he said.
Dorothy — who performed a traditional strip tease — began dancing at 17 and eventually joined a traveling chorus line, but never found fame.
"When I get on that stage, I want to prove that you are never to old to follow your dreams." she revealed in a pre-taped interview.
"You are a star, baby," Cannon declared before deciding the judges shouldn't be the only ones to pass an act through.
Judges Howie Mandel, Heidi Klum, Mel B. and Simon Cowell were all in agreement.
"I absolutely love you," Klum praised.
"I find you fascinating, Dorothy," Cowell added. "I do think there is an audience for you. I kind of wanted a longer song. That may be one of my favorite auditions ever!"
Here's who else America will be talking about…
RL BELL
The 50 year-old massage therapist and former professional bodybuilder just barely made it through after crooning his version of the 1970s hit, "Me and Mrs. Jones."
"I like a little bit of sugar in my tea, but I like one teaspoon," Cowell said, before passing him through to the next round. "That was like a whole bag of sugar. It was getting so corny…we have to de-corny you."
THE PASSING ZONE
Look familiar? John and Owen were finalists on the very first season of AGT a decade ago.
They're professional jugglers with a taste for danger.
This time around, they juggle a flaming plunger over Howie Mandel's head as he lies petrified on the stage floor.
Luckily, Howie survives and they are passed through to the next round.
"The hardest juggling we do," John says, "is making a living at (this)."
DANIEL JOYNER
The teenager from Tennessee won over the room with his cover of the Otis Redding classic "Try A Little Tenderness."
"Your voice is fantastic," Cowell told him. "I mean, really, really good."
Can he compete for the $1 million grand prize?
We'll find out when the next round of competition begins next week.
"America's Got Talent" airs Tuesdays on NBC.