4-year-old girl battling cancer whose dying wish to meet Taylor Swift came true has died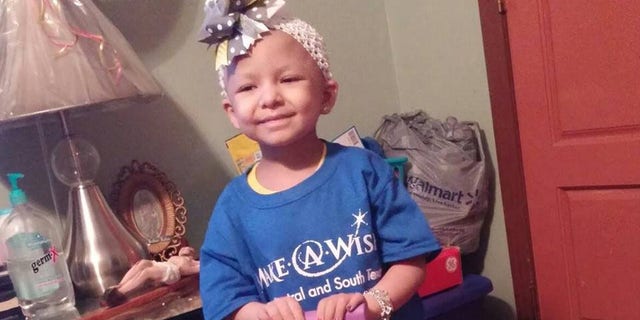 The little girl who captivated social media with her final wish to dance with Taylor Swift died on Sunday after a 10-month battle with brain cancer.
The family of 4-year-old Jalene Salinas confirmed her passing early Monday on Facebook.
"On March 15, 2015, Jalene gained her beautiful angel wings. She fought all the way to the end. She beat cancer defying the hours and days we were told," the family post read. "Jalene was true princess and I made sure to have her glass slippers by her side."
The family shared a series of photos in the moments leading up to her death, saying that "everyone can simply agree on what a great [infectious] smile Jalene had."
The said even in death, Jalene was smiling.
"Jalene's smile seemed to grow as time was passing by and we were waiting for her to be picked up," the post continued. "Her smile comforted my heart and let me know that she is flying high free of pain and sickness."
Salinas was diagnosed with a PNET tumor, an aggressive form of cancer, about 10 months ago, and doctors were not able to keep it from growing.
Her mother chronicled the journey on Facebook.
Soon after, the Texas girl and her family created a bucket list that included a chance to meet the girl's idol, Swift.
The Facebook post went viral, and a social media campaign began urging Swift to grant the girl her dying wish.
The campaign got the pop singer's attention and Salinas got her wish earlier this month. The pop singer chatted with the family for 20 minutes during a surprise call via Facetime.
"You look beautiful tonight, you really do. You're just as pretty as your pictures," Swift told Salinas during their chat.
Like us on Facebook
Follow us on Twitter & Instagram