'13 Reasons Why' slammed by Florida mom following teen daughter's suicide attempt
A Florida mother has blamed the controversial Netflix series "13 Reason Why" for her daughter's recent suicide attempt, saying the teen tried to mimic the show's main character, who commits suicide in the first season.
The mother, who was not named, said her 15-year-old attempted to kill herself on Mother's Day. When the mother began to investigate what happened, she said she discovered her daughter was seemingly influenced by the Netflix show, the Okeechobee News reported.
"I'm angry that show is out there, and even more angry there is now a season 2," she said. "Why even put these shows out there and put it in her mind to try to kill herself the way it is done in this show?"
The mother said her daughter made a pact with four other teenagers from nearby high schools. The teenagers promised to run away and change their identities, but if they could not fulfill that then they would kill themselves. The teenagers were reportedly "seeking a future that didn't involve adults telling them what to do."
The woman said her daughter started reaching out to the other teens on Mother's Day, and one of them accused her of being "weak" and claimed she would not go through with the suicide.
'13 REASONS WHY' SLAMMED FOR GRAPHIC SEX ASSAULT SCENE WIT HSOME DEMANDING NETFLIX CANCEL CONTROVERSIAL SHOW
"The boy let our daughter send a video of herself. She took a pencil sharpener apart to get the blade out," the mother said.
The teenager sent a video of her cutting herself to the teenagers and reportedly complained that "it's taking too long …. It's not like on '13 Reasons.'"
The show's protagonist, Hannah Baker, commits suicide at the end of Season 1 by slitting her wrists while sitting in a bathtub full of water.
One of the teens in the pact called 911, and the girl was rushed to the hospital. Her mother said she was home and recovering.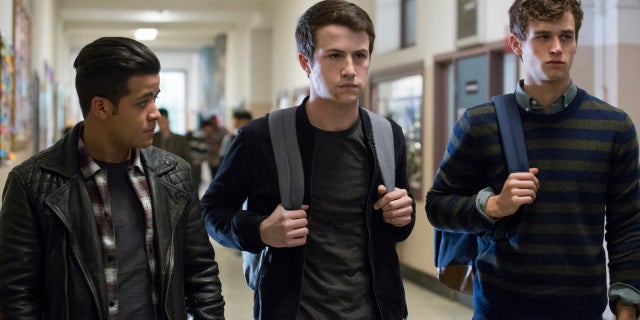 The mother believes the show was a "template" for her daughter's suicide.
"Other than the type of blade used, my daughter did everything the girl in '13 Reasons' did," she said.
The mother also said she never gave her daughter permission to watch the series, which she claims promotes suicide.
"They should be glorifying kids who speak up," she said.
She added she planned to start a support group for other parents who have experienced their children attempting suicide.
NETFLIX CANCELS PREMIERE PARTY FOR '13 REASONS WHY,' CITING TEXAS SCHOOL SHOOTING
"None of us asked for this," she said. "But we have to pull together to try to save the next kid."
She's not the first mom to speak out against the show. Two California families blamed the show for the deaths of their daughters last year, claiming it acted as a trigger for the depressed teens.
Netflix agreed to add content warnings to the original series in response to demands made by mental health advocates.
Still, the second season of the series is also facing heavy backlash for a graphic sexual assault scene. Some people have resumed social media campaigns to try to press Netflix to cancel the controversial show.

Fox News' Paulina Dedaj contributed to this report.