10 Things You Didn't Know About Elvis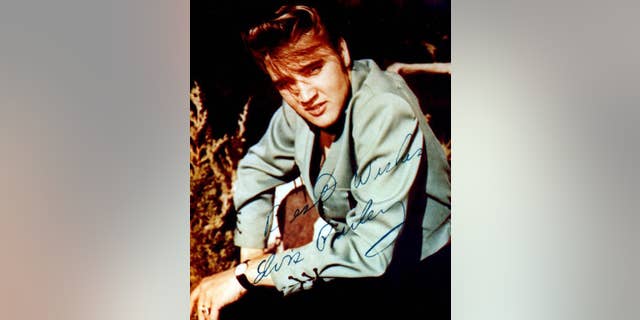 Elvis may have "left the building" on August 16, 1977, but the King is still as big as ever. Even today, Presley's enormous collection of recordings and films are celebrated by fans across the world, and he continues to influence current musicians, too.
Perhaps most interestingly, there's still a ton of Elvis lore to discover. New biographies and anthologies seem to pop up every year, each revealing more of Presley's personal habits, unbelievable stories and little-known secrets.
In celebration all things Elvis, here are 10 fun facts you may not know about the King:
#1. According to rocker Alice Cooper, Elvis once invited him — along with Chubby Checker, Liza Minnelli and Linda Lovelace — to a small gathering at his Las Vegas hotel suite in the 1970s. Sometime during the evening, Presley retrieved a loaded .38 from his kitchen drawer and told Cooper to point it at him, saying, "I'm gonna show you how to take this gun out of somebody's hand." Cooper jokingly says that he thought about shooting Presley (and forever being known as the guy who shot Elvis), but before Cooper knew what hit him, he was on the floor with Elvis' boot at his throat. Here he is telling the story on BBC Two's "Never Mind the Buzzcocks":
#2. Elvis' manager Colonel Tom Parker was always looking to make a buck off his client, whom he considered somewhat of a novelty act. Parker was known to stand outside of Presley's earlier concert appearances peddling "I Love Elvis" buttons for fans and "I Hate Elvis" buttons for detractors.
#3. According to Priscilla Presley, Elvis "loathed" the plots of the movie musicals he made after he came back from the army, longing instead to make films like those of James Dean or Marlon Brando. "But whenever he complained to the Colonel, Colonel reminded him that they were making millions … and that his fans wanted to see him only in musicals," wrote Priscilla in "Elvis and Me." Elvis' controlling manager also made him turn down roles in "Thunder Road," "West Side Story" and "Midnight Cowboy." (According to Presley's official website, the role of Danny Fisher in "King Creole" was his personal favorite.)
#4. Ed Sullivan initially didn't want Elvis on his variety program. Presley generated a lot of controversy after appearing on "The Milton Berle Show" shortly before, and Sullivan didn't want that kind of backlash. Sullivan only changed his mind after Elvis appeared on "The Steve Allen Show" — which aired opposite "The Ed Sullivan Show" on Sunday nights — and crushed him in the ratings.
#5. In his younger years, Elvis was a huge fan of Captain Marvel Jr. It's widely believed that Presley modeled his signature look after the superhero, including his hair, his sideburns, and his late-era caped jumpsuits. Elvis even adopted Captain Marvel Jr.'s lightning bolt symbol as his unofficial logo, plastering it on his private plane, the wall of his TV room, and his TCB-encrusted jewelry. The writers of more recent Captain Marvel Jr. comics have returned the favor by modeling a character called King Marvel after Presley, and also by having Captain Marvel Jr. refer to Elvis as "the greatest modern-day philosopher."
#6. At one point in the early '60s, Elvis owned a 40-pound chimpanzee named Scatter. Scatter had a habit of terrifying Presley's female guests and peeking under their skirts, which got the primate punched in the face by Elvis' friend Patti Parry.
#7. Elvis kept a grocery list of items that were to be stocked at Graceland at all times. Among the consumables to be kept in his house were cigarettes, cigars, pickles, one case of Pepsi, banana pudding, Dristan, lean bacon, shredded coconut, six cans of biscuits, sauerkraut, and a gum called Feen-a-Mint, which boasted laxative properties.
#8. At a 2009 auction in Chicago, a lock of Elvis' hair from collector Gary Pepper's personal collection fetched $18,300. The hair itself wasn't DNA tested, but the clippings were deemed authentic by a celebrity hair "expert."
#9. Elvis only made one commercial in his entire career, singing the jingle in an ad for Southern Maid Donuts in 1954. According to the company itself, the lyrics were as follows: "You can get them piping hot after 4 p.m., you can get them piping hot, Southern Maid Donuts hits the spot, you can get them piping hot after 4 p.m." (Since his death, however, Elvis' likeness has appeared in numerous advertising campaigns.)
#10. It was widely believed that Elvis' first and only trip to the UK happened in 1960, when the plane carrying him home from his military tenure in Germany stopped to refuel at Glasgow Prestwick Airport in Scotland. When word got out that Elvis may have spent a day in London with British rocker Tommy Steele back in 1958 (a story confirmed by Steele in 2008), officials at Prestwick Airport refused to believe it — they had already commemorated Elvis' stop-over with a plaque, and had erected an Elvis-themed lounge in honor of the event. "As far as we are concerned, until it is proved otherwise, Prestwick Airport remains the only place in the United Kingdom that Elvis Presley ever set foot," said airport executive Mark Rodwell in 2008.