Mercedes' 2018 S-Class can change lanes by itself, help improve your mood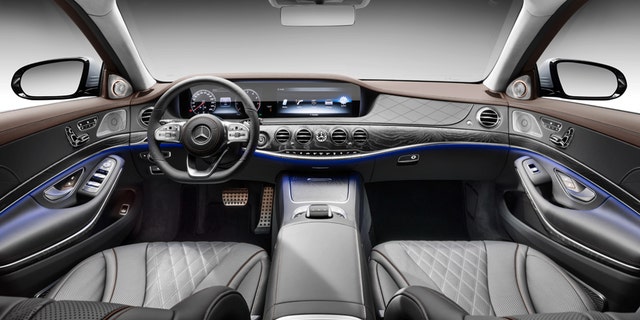 NEWYou can now listen to Fox News articles!
The Mercedes-Benz S-Class is known as a technology leader not only for Mercedes itself, but for the car industry as a whole. But given that the current S-Class has been with us since the 2014 model year, some updates were needed to keep that title.
That's where the 2018 Mercedes-Benz S-Class comes in. Debuting this week at the 2017 Shanghai Auto Show, this refreshed version of Mercedes' flagship gets an updated infotainment interface and more driver-assistance tech, as well as new engines and a mild restyling.
Mercedes previously boasted that the driver-assist features in the 2018 S-Class would take the car a step closer to autonomous driving, and the list is indeed considerable. Its adaptive cruise control and speed-limit assist now use more map data, allowing the car to hold a set speed in a wider variety of situations. Like a Tesla Model S, the S-Class now also has the ability to change lanes at the flick of a turn-signal stalk.
HANDS OFF! NEW MERCEDES E-CLASS STEERS ITSELF:
The powertrain lineup gets a reshuffle, with the S450 (rear-wheel drive) and S450 4Matic (all-wheel drive) models sporting a new 3.0-liter twin-turbocharged V6 that makes 362 horsepower and 269 pound-feet of torque. The S560 and S560 4Matic use a new 4.0-liter twin-turbo V8, with 463 hp and 516 lb-ft. The V8 also powers the ultra-luxury Mercedes-Maybach S650 and S650 4Matic models.
The Mercedes-AMG S63 performance model returns, but with a 4.0-liter twin-turbo V8 replacing the old 5.5-liter twin-turbo V8, as well as standard all-wheel drive. The new engine produces a titanic 603 hp and 664 lb-ft, getting the S63 from 0 to 60 mph in 3.4 seconds. The AMG S65 model retains its 6.0-liter twin-turbo V12, generating 621 hp and 738 lb-ft. The S65 does 0 to 60 mph in 4.2 seconds, according to Mercedes, and both AMG models are electronically limited to 186 mph.
On the inside, the S-Class continues to use a pair of display screens behind one piece of glass, measuring a combined 12.3 inches diagonally. This wraparound setup encompasses both the functions of a traditional gauge cluster and center-stack infotainment screen. The driver can manipulate these screens using touchpads on the steering wheel, or with an infotainment controller on the center console.
Another, somewhat unusual feature is the new "Energizing Comfort" system. It uses the climate control, seat heating/ventilation and massage, ambient lighting, and audio system to create what Mercedes calls a "specific wellness setup tailored to the mood and need of the driver." It includes six programs: Freshness, Warmth, Vitality, Joy, Comfort, and Training (which includes exercises that can be performed while seated). Each lasts 10 minutes.
Most 2018 Mercedes-Benz S-Class models will arrive in U.S. dealerships this fall, with the Maybach S650 and AMG S65 models scheduled to go on sale a bit later. Pricing will be announced closer to the launch date.